El Anzuelo Fino

Even though I feel like they (whoever they are) have been saying it years, Peruvian is supposed to be the hot new cuisine (I'm torn, because as much as I love Peruvian food, I was hoping for Filipino to take that honor). Maybe so. And I'll be waiting to see how NYC responds to the big, modern version at La Mar Cebicheria opening this week.
Meanwhile, I went small. I'm such a slave to Pio Pio that I never give any of the other Peruvian options on Northern Boulevard a chance. How many matador combos can one person eat before branching out? El Anzuelo Fino needed trying (El Sol does too).
Gastón Acurio's curl-topped face was all over a travel/cooking show playing on the television in the front dining room. I wonder how much of a crossover audience will be shared between this small, Jackson Heights corner restaurant and La Mar Cebicheria?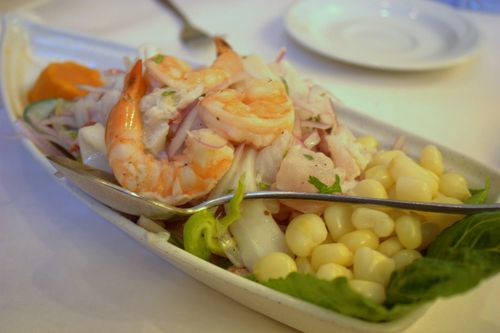 Ceviche mixto is always an accurate benchmark. Here, cubes of raw firm fish, likely corvina, shrimp, octopus rings and a single green-lipped mussel were the mix. This is the only restaurant where I've been asked about spice level and given a dish with a genuinely hot kick in addition to the lime's tartness, which by itself can be one-note.
With fish hook in the name and a fish waiter logo, napkin draped over one fin and a plate of food on the other, nearly as cute as Pio Pio's chick in clogs, seafood was in order. Red snapper seemed like too much for one, and my concession, one of the many corvina dishes, was not exactly light. The filet is fried and comes sculpted around a center of shrimp, mussels, and octopus (cooked ceviche mixto, essentially) in a creamy, lightly spicy sauce (that's even better with a few squirts of the hot green sauce in a squeeze bottle that thankfully you don't have to ask for). Surrounded by logs of yuca (and served with default white rice) this golden mound is not dainty, but the inevitable leftovers hold up well. Sure, I'll eat a ball of seafood for breakfast.
Or you can order a sirloin steak, typically thin and well-done (ask for it rarer). Bistek a lo pobre with maduros, rice, fries and a runny-yolked egg is like breakfast for dinner.
My original plan was a nightcap at Amaru, the newish pisco bar from Pio Pio (and in their old space) but after stiff two-for-one cocktails at The Astor Room and half of a pitcher of sangria, I wasn't feeling the need for a Rocoto Sour—at least not with the two bouncers out front and thumping bass trying to escape the closed doors. Maybe on a weeknight.
El Anzuelo Fino * 86-01 Northern Blvd., Jackson Heights, NY