Castagna

I'm moderately embarrassed to admit that I have always glossed over any mentions of Castagna because I incorrectly assumed it was an Italian restaurant (it once was). Only after Castagna started affecting me directly, i.e. appearing in my heavily NYC-loaded rss feeds because the young chef, Matthew Lightner, was leaving to work at Tribeca's retooled Compose, now to be known as Atera. My week in Portland was the chef's final week in Castagna's kitchen. Now I was motivated.
And he's a total forage-crazed adherent to the new Nordic ethos (with a good measure of Spanish avant-garde tossed in, as I soon discovered). Ok, as long as he wasn't going nuts with pine needles, wet moss, slugs and mushrooms, my Northwest bugaboos, I was up for this. I imagined Castagna as a counterpoint to Paley's. Warm and homey versus cool and rustically cerebral.

Castagna is designed in style that's similar to one that's taken Portland by storm during my long absence. There is a regional penchant for turning existing structures into modern glassy boxes done in neutral tones, metal signage and light wood, very Scandinavian with a touch of the Northwest by which I mean ramshackle despite no ragged edges; it's just a haphazard feeling I get and not visible to the eye. Castagna is less stark from the outside because it's housed in a deco building.
I first noticed this on my last visit two years ago when I realized Laurelhurst Market was a kitted out former Plaid Pantry. This trip, I tracked down a bottle of La Passion de Juchepie wine mentioned in The Art of Eating just because it was described as "so rare as to be almost unobtainable in the United States" yet there was one bottle left at Garrison's Fine Wines in Portland.
This wine shop was in a shiny, newish strip mall, aesthetically acceptable with its clean lines, wood panels and earth tones that would presumably keep tanning salons and 99-cent stores at bay. This collection of shops was on the former site of a dumpy grocery store that I want to say was called Thrifty Mart, but probably wasn't. It was my first supermarket after moving out of the house (eight blocks away). Feeling flush with newly granted food stamps ($112 per month seemed like a lot of money) on my inaugural visit I picked up hot cross buns because I'd never eaten the sweet rolls topped with candied fruit and icing and smoked salmon because it seemed fancy. And now you can spend $48 for a half-bottle of obscure imported French dessert wine on its grounds.
No one was wearing fleece or polos in Castagna. Women wore makeup. Two men were dining solo doing full tasting menus. This is where I'd want to say, "you could be anywhere," but not really. It felt American still, West Coat most likely. The space was far too airy, relaxed and non-bustling to be New York or even Brooklyn despite a tempered hipness.  The background music was so quiet that Shazzam couldn't even pick up the noise and help me jog my memory to identify a song (it came to me later: The xx's "Islands"). It felt like a cosmopolitan restaurant in Portland, frankly. The city could use more of these.
We did not do the tasting. One parade of decadence was plenty for one week, and Benu already took that spot. We still received a fair number of dishes before we got into the four-course prixe fixe (a great NYC value at $65, though perhaps high for Portland—I don't know any locals who've eaten at Castagna). If I wasn't sure what I was getting into, I certainly did after the initial trio of snacks: thoughtful, precise flavor combinations; a little Nordic, a little unexpected, very woodsy.
A puff of meringue filled with a bright green herbal mousse. What looked like a Girl Scout Thin Mint was a savory cracker coated in slightly bitter black sesame paste, perfect with a dab of tart rose hip jam. Rye crackers with chicken liver mousse and poppyseeds.
The butter topped with brown butter solids was nice, and more attractive perched on that rock, but the lardo studded with herbs and I want to say bacon was insane. So insane that we ate the whole thing and were brought a second little dish. The rye rolls were very sturdy, a good match for the smoky, spreadable fat. This would be so good paired with a scotch-based cocktail (maybe I shouldn't be giving that other Portland expat chef any ideas).
black cod with pickled potatoes, sour cream, dill, borage. Potato chips! The cod, chopped into small pieces and bound with sour cream reminded me of a more compelling tuna tartare; you know, the kind served with fried wonton strips and possibly served in a martini glass. Maybe this will be an ubiquitous starter in 15 years.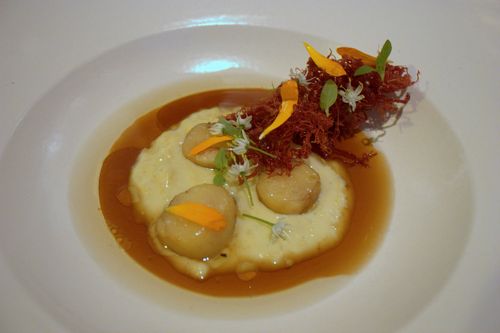 summer squash with beef marrow, tongue, onion blossom. It was the marrow that grabbed my attention on the menu—and presented in rounds like scallops, no less—but it was the beef tongue that got me thinking. I just ate sous-vided, tweezered-painstakingly-by-hand-into-shreds tongue garnished with flowers at Mugaritz in May. Matthew Lighter worked at Mugaritz. Would this be called an homage? Is it taking too much from the original? The duo next to us asked and was given a detailed description of how the tongue was prepared, and they were delighted with the chef's whimsy. Is it fair to not disclose the inspiration? Certainly, the tangle of meat floss was only one component of a more complex dish. It did make me wonder what I might recognize on the plates if I had had the good fortune of eating at Noma.
lamb collar, wheat berries, wheat grass, buttermilk. I was eating sticks–woody, lemony twigs–and that was not the only distinct texture; the wheat berries had a lot of pleasant chew. The fall-apart tender cut of lamb, glazed with a vaguely bbq-ish sauce, needed these stiffer accents to bolster it.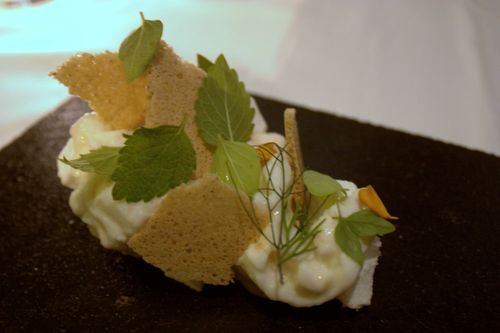 wild ginger with long pepper, ginger shortbread, herbs. This was barely a dessert, spiced to the hilt with only the slightest hint of sweetness. Totally un-American, and mildly cruel, crafting this dish would definitely keep an herb chef busy. The pepper and ginger so intense that you almost get that Sichuan peppercorn overload where your mouth's sensors give up and it almost tastes like you've been eating curried dirt. It's the one item from this meal I ate over a month ago that is still tangible, I can taste the sharp, musty flavors even now. Am I selling this dessert or what?
I never felt compelled to try the short-lived Compose, but now I'm genuinely curious about Atera. Will there be beef tongue?
Full set of Castagna photos.

Castagna * 1752 Hawthorne Blvd., Portland, OR