Paley's Place

I'm not sure if this is a Portland vs New York City thing or a Way We Live Now thing, but when I lived in Portland—up until the age of 25—I ate things like burritos, monte cristo sandwiches and pizza (well, laska too) if I ate out at all. Late night Montage with their leftovers wrapped into foil swans was as fancy as it got. I drank Rainer Beer and whisky sours. Based on daily Twitter skimming, it would appear that it is not uncommon for young adults in NYC to imbibe $14 cocktails, bottles of 20-year-old Oregon Pinot Noir and eat foraged purslane salads and aged, grass-fed beef on a regular basis.
Maybe we just have more choice…maybe it's just the money flowing in NYC. There's a reason why food cart culture has flourished in Portland, after all. I didn't see anyone obviously under 30 eating at any of the city's high end restaurants during my visit.
Then again, we didn't have a lot of "nice" restaurants in Portland when I was growing up. The city gets plenty of attention for its food now, but it's not like there is a Per Se or Le Bernadin (Portlanders still don't really eat fish) equivalent. In my era, Northwest Portland was the most expensive neighborhoods (I only paid $225 per month because the building could be demolished at any moment, a threat that had been present for years and came to pass not long after I moved in) and that's where restaurants emerged that were acclaimed at the time: Wildwood, which is still going, and long-gone Zefiro, which stuck out on a stretch of taverns and delis with its soft glow emanating from a wall of windows polished and full of successful adults, it was the ultimate yuppie restaurant. I had no idea what kind of food they even served and would never bother getting close enough to check.
Paley's Place, opened in 1995, was one of these novel-at-the-time local and seasonal restaurants that it never occurred to me to try. And did I want to now? It seemed kind of passé compared to on-trend Castagna or any number of young cheffy places in neighborhoods that no one would've traveled to to eat 15 years ago. But it's an important restaurant and epitomizes old Portland, by which I mean late last century—things changed post-millennium as an influx of transplants and loftier ambitions began creating the Portlandia of today.
Classic Portland translates to homey, literally, a wood frame house with a wide porch for al fresco dining. The interior is simple, warm; I'm remember drapes and carpeting even though I can see hardwood floors in photos. Despite the reputation as being a special occasion restaurant—it wins votes for Most Romantic and If I Won the Lottery, This is the First Place I'd Eat—suited for anniversaries or where your parents might take you out of they did that sort of thing (mine don't) or where you might take them if you're the flush one (maybe I'm doing better than I realize because I didn't consider the prices lottery-winner steep) the diners were classic Portland, as well. Men wear neither jackets nor ties, but rather shorts and sandals. The servers themselves wear khakis and polos. Babies are breastfed at the table. Formality is an abstract concept.
The food, the whole point really, was completely solid. I chose not to stick with an appetizer/entrée approach, and you don't have to; many items are available in half portions or aren't course-specific.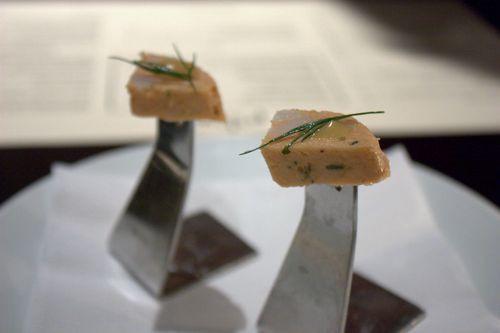 Seafood sausage amuse.
There were three different oysters on offer, all from Washington State: Blue Pool, Diamond Point and Kusshi.
Wagyu pastrami might not look pretty on the plate, but it was a delicious, smoky, fatty mess. Extravagant without being dainty, there were hints of brown sugar complemented by both stone ground mustard and thousand island dressing. I wondered if Paley's other charcuterie—there were at least ten types listed—excelled, as well.
More shared richness in the form of a pork belly cube and pan-fried sweetbreads.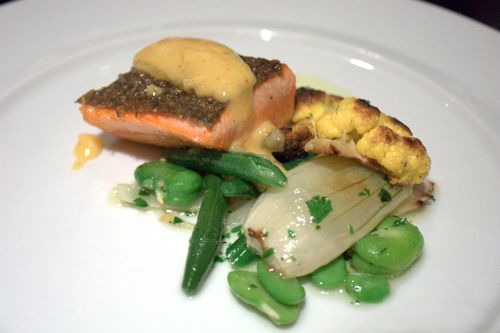 The 3-ounce half-portion of salmon turned out to be just enough when combined with the above dishes. Normally, I stay away from salmon because it seems dull, but it would be silly to avoid a Northwest fish so close to home. The charred cauliflower and saffron aioli gave a nice Spanish luster to the dish.
I was glad that I didn't skip Paley's in a quest for the latest thing. I had a reservation for Castagna the following night (so did a woman at the table of men in sandals) and was eager to compare old Portland to the new.
Paley's Place * 1204 NW 21st Ave., Portland, OR