Char Burger

I wouldn't exactly call Char Burger a institution. But anyone who grew up in an eastern suburb of Portland is probably familiar with the western-themed eatery that's just beyond Multnomah Falls and the Bonneville Dam Fish Hatchery (those giant sturgeon freak me out as much now as they did when I was a kid) on the Oregon-Washington border.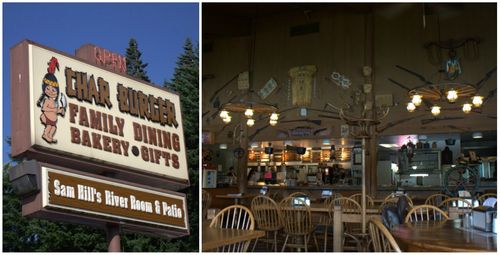 With Girl Scouts, we'd often stop before crossing over on the Bridge of the Gods into Stevenson where Camp Arrowhead was. Sometimes, we'd stop at a soft serve place on the other side. I don't remember a thing about that place, though. You do not easily forget Char Burger.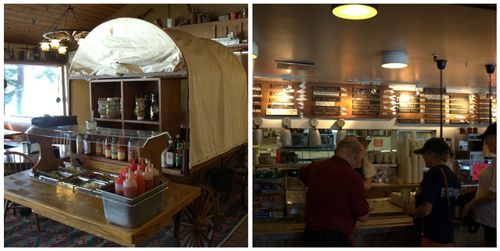 Arrowheads and rifles plastered on the walls, wagon wheel light fixtures and a condiment station housed in a shrunken covered wagon make an impression. The food is simple and not remotely destination-worthy (when I told my friend Lema I was going, her initial reaction was "Why?" and then "You're not going for the food, are you?").  No matter, just line up, grab a try and order at the counter.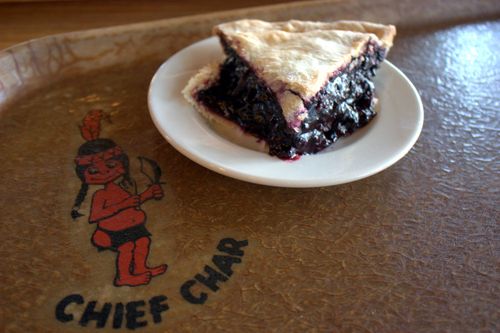 I just had a slice of stiff marionberry pie and an unsweetened ice tea.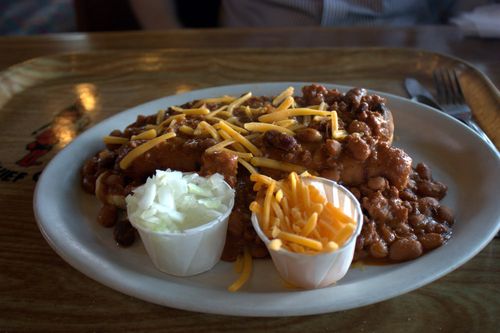 A chili dog.
You do get a nice view of the Columbia River from the windows.
Char Burger * 745 Wanapa St., Cascade Locks, OR