You Got Your Chocolate In My Peanut Butter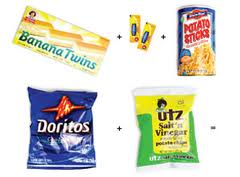 I don't actually eat a lot of junk food (no, that's not quite as egregious as saying you don't own a television) even though I'm a chain food freak. But I love the idea of snack food mash-ups. Humans are combining Cool Ranch Doritos with Table Talk pineapple pies on their own while brands like Planters are inventing Crème Brûlée Almonds.
Meanwhile, General Mills is stuffing food into other food turducken-style. Betty Crocker's FUN da-Middles, which allow home bakers to put the frosting inside cupcacakes, is but one example.
The only junk food pairing I can recall ever engaging in was a near-daily snack of Reese's Peanut Butter Cups and Cherry Coke during second period study hall my freshman year. The combo tasted like eggnog, at least to my 14-year-old palate. I should give it another go. And yeah, I did put on weight that year. Thankfully, this was pre-obesity epidemic so no one gave a shit or tried removing me from my home.
Photo of Potato Plantain Torta ingredients from Junk Foodie