Thai Rock

It is a rare circumstance where I allow a pad thai-and-chopsticks joint into my life, though if there's any occasion for breaking rules it is on our nation's birthday.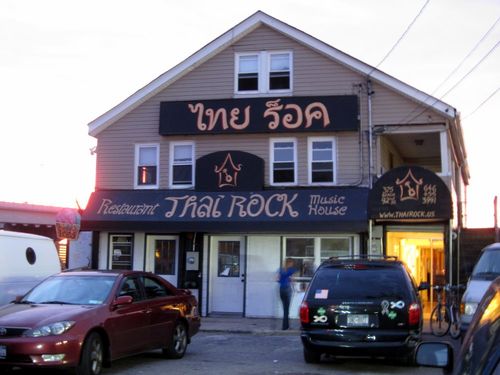 Really, I just wanted to see this rough-and-tumble "The boardwalk is the new Bedford Avenue" paradise I've been inundated with for the past few months, and peek at my friends' Rockaways summer rental. By the time I showed up, though (I have no interest in sunning, swimming or sand) everything was closing up and the line for tacos was easily 30-minutes-long.
Luckily, I remembered a press release I'd been sent months ago—and never thought I'd need—advertising a new Thai restaurant. And it turned out we'd only parked two blocks away. After a long weekend of docks, cover bands and sunsets and on Maryland's Eastern Shore I could still stand more, though I'd had my fill of crab, crab cakes and fried clams. Why not Thai food, rainbow martinis and a live tribute to Credence Clearwater Revival and Louis Armstrong?
It would've been cool to discover blistering hot seafood and papaya salads so I could pretend I was in Hua Hin, but the Rockaways are no Thai beach. The food was as expected, lots of pick your protein curries and toned-down spice. To their credit, the menu is surprisingly far-ranging. Sure, pad thai tops the list of noodles, but they also serve less common rad nah, khao soi and khanom jeen. I certainly haven't seen any of those three in my neck of the woods, despite a Thai restaurant practically being on every block.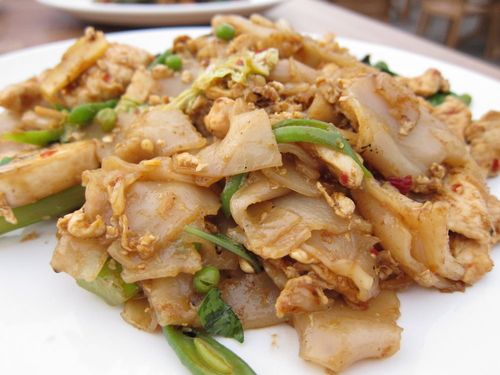 If we order noodles, it's usually pad kee mao, though. Here, with chicken (as well as Chinese flourishes: baby corn, peas, bamboo shoots and celery). It could've used a side of fish sauce with sliced chiles. I did not notice if they had diy condiments.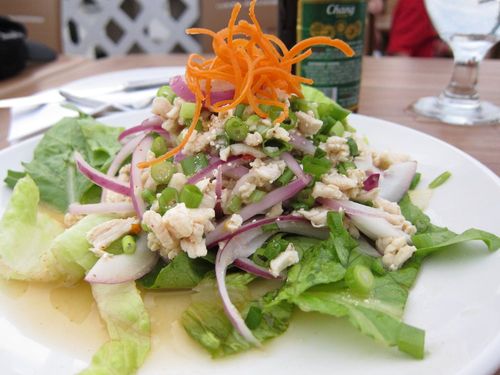 The larb, chicken, also had a good enough foundation—and the necessary roasted rice powder—but leaned more limey than hot. I like my Thai salads more punishing.
Rich and salty pad prik king was more purist, just pork and green beans, no superfluous vegetables.
Chang beer was an appropriate starter, but when in Rome a so-called rainbow martini had to be the follow-up. Really, it's a pousse café, a nearly extinct style of cocktail that will most certainly show up in artisanal form soon if it hasn't already. This trio of colorful liqueurs tasted like gummi bears. I want this version.
Since it was my first visit (yes, in 13 years here) to Rockaway Beach and the demographic appears to be shifting rapidly, it's hard to say who Thai Rock's audience is. On this early evening they were cooking for Europeans with babies, young, clean-cut couples who probably don't live more than 20 minutes away, law enforcement-looking middle-aged men in polos, skinny girls with wavy mullets and high-waisted denim shorts over American flag swimsuits. The pair behind us complained that their food was too spicy, which only convinced James that our orders had swapped. I doubt it.
Visitors are looking for familiar flavors (while overlooking the baby corn) and a great view. And that's what they'll get.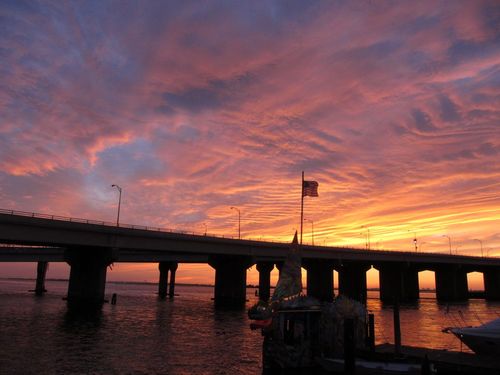 Thai Rock * 375 Beach 92nd Street, Rockaway Beach, NY