Sa Aming Nayon

Now Jeepney. At least it's still Filipino, right? Gastropub or not. I walked past the opening last night and was tempted to pop in. (10/12/12)
Curiously, Sa Aming Nayon appeared in that patch of First Avenue near 14th Street that periodically sprouts and snuffs out Filipino restaurants back in June. Yet their name has been popping up in the past week in food media. Well, just Time Out New York and Tasting Table. Why now?
Who cares, all you need to know is that if you have even the vaguest interest in Filipino food—and you should—this home-style restaurant is worth a visit. Then again, I'm a big booster of Filipino cuisine. It's an unknown compared to more popular Thai or Vietnamese, and those who encounter the style, reliant on vinegar and other bitter flavors, often write off the entire country's repertoire. Some think it's too funky; others find it boiled and bland.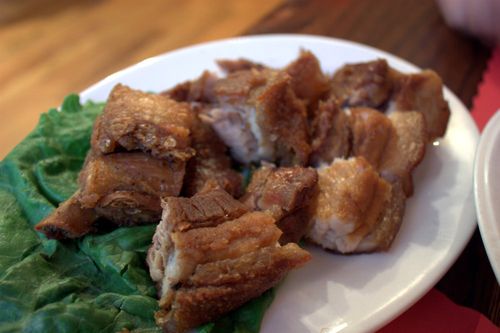 While lamb and goat battle for it meat recognition, pork is still the favorite protein of discerning gluttons everywhere. And no one does pork like a Pinoy. It's a great introduction. The next best thing to experiencing the bounty of the whole beast, a.k.a. lechon, is sampling the fatty parts encased in crackly skin. This typically means crispy pata, a deep-fried ham hock or lechon kawali, pork belly given the same burnished-in-oil treatment.
Chicharrón is often eaten as is, but lechon kawali needs its sauce. I panicked for a second when it didn't show up. "The sauce is coming," I was promised before I could say a thing. Then I could hear the woman who appeared to be an owner yelling into the kitchen for "the sauce." What if they were out of sauce? I've heard of women carrying Tabasco or ranch dressing in their purses. I wonder what they would've thought if I pulled a bottle of Mama Sita's out of my bag.
I have no idea how you would come up with the idea of combining liver, sugar, vinegar and bread crumbs (thrifty, sure) to make a dip for fried pork, but the thick, sweet and savory result that's more sludgy than saucy, transforms the meaty chunks into something even better. It's instant umami.
Pinakbet combines a slew of vegetables like squash, tomatoes, bitter melon, eggplant and green beans with more pork to create a vegetable stew. Read more about this dish on the new Real Cheap Eats NYC (not so much because I'm plug-crazy but because I don't want to repeat myself).
Classic soy-and-vinegar braised adobo is an obvious choice (they were out of sisig, which is what I really wanted) but I like that they served a version with both pork and chicken. The meat becomes so stained from the soy that you can barely tell which meat you're getting until you take a bite. Adobo roulette.
I'd like to go back for the halo-halo. Icy Asian desserts, like snow cones covered in gelatinous goo, often seem odd out of context, but this heat wave is tailor made for tropical sweets, purple yam jam, pandan jelly and all.
Sa Aming Nayon * 201 First Ave., New York, NY