Texas Roadhouse

I'm never ever a jerk to service staff, but when "Have you dined with us before?" hits my ears (which isn't the sole province of chain restaurants) I feel this childish urge to backtalk in some manner. Really, how much explaining should a dining experience require? I always lie and say "yes" to save the spiel. But as a first-timer at Texas Roadhouse, who only knew about the business because it came in fourth place in a survey of favorite casual dining restaurants, I did kind of want to hear what they were about.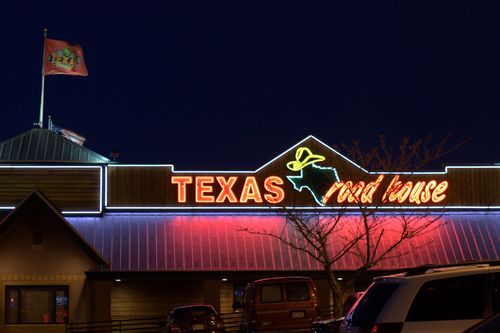 "Hand-cut steaks," sides made from scratch and freshly baked rolls that are whisked from the front counter and brought with you to the table as you're being seated, it turns out. The staff wearing I Heart My Job t-shirts and periodically breaking into country line dances and why the chicken fingers are called "critters," were not explained.
While waiting for a table at the bar, we sized up the restaurant with its chilled giant mugs of beer, bloomin' onions, woody motif and emphasis on steaks, to be an OSI brand. But not so. That fried, battered onion turned out be called a Cactus Blossom, and apparently has nothing to do with Outback Steakhouse, whatsoever.
What the restaurant really reminded me of, particularly the country music and encouragement to throw peanut shells on the floor, was a restaurant in Tigard called BJ's Roadhouse that I can find no online evidence of (there's a BJ's Restaurant and Brewhouse, but that's not it). I'll never forget it because it's where my dad and his wife took me for my birthday right after I turned 21 and I forgot my driver's license and couldn't drink away the trauma (no, I did not appreciate chains and suburban trappings in college). The waiter wouldn't even let me have an O'Doul's. The evening ended with a watermelon (the only food in the world I hate) and a diabetic cherry pie.
A decade-and-a-half can make all the difference. Now, I'm soothed by honey-cinnamon butter and warm, fluffy rolls and the ability to drink forty ounces of Sam Adams Cherry Wheat beer without being carded. I practically ate the whole basket while scrutinizing the menu. The bread reminded me of the "scones" at a restaurant I ate at once in grade school called Pa's Kettle (wow, I can't believe that it still existed in its 1980s form until 2008). They were warm yeasty triangles served with honey-butter that had me in for a surprise when I first tasted a real dense, baking soda-heavy scone (probably at Starbucks, sadly).
Rattlesnake Bites are a take on jalapeño poppers with the chiles and cheese mashed up and formed into a fritter and served with a Cajun horseradish dip. "Hand-battered," don't forget. I felt health draining from me with each bite–maybe that's the rattlesnake angle?–but who doesn't appreciate a newfangled popper?
I tested out my favorite Dallas BBQ combo: ribs and chicken. Well, the ribs, despite being a little dried-out and not likely smoked, still tasted more like real barbecue than BBQ's. Nothing wrong with them. The chicken, though? Ugh, grilled, boneless chicken breast, my enemy. I was picturing a crispy, skin-on leg in my head. This sad poultry part has a place in my weeknight dinner canon, but I never ever want to eat it in a restaurant and I will never understand Americans' obsession with flavorless white meat. (Apparently, Chinese don't like chicken breast—or kung pao, but that's another story.) To be fair, the grilled chicken was moist and not tasteless—the more peppery than sweet sauce helped—it's just not what I wanted. Baked beans and steamed broccoli, carrots and cauliflower (my attempt at health) were my choices of sides.
They really do hype-up the beef—the cuts are displayed in a butcher-style case in the waiting area—so, James went all big-spender (relatively speaking; the steak and rib combo was $18.99) and ordered a steak and rib combo. I'm still trying to parse our enthusiastic server's question "Have you had ribeye before?" Did he mean ever in our lives or at Texas Roadhouse? Am I naïve/privileged to think that the average adult in this country has eaten a ribeye at some point? Must tamp urge to sass waitstaff.
No matter. Texas Roadhouse is worth having in my chain restaurant repertoire. I would go again, if only to be able to answer "yes" when asked the inevitable "Have you dined with us before?" question.
Texas Roadhouse * 1000 US Highway 9, Parlin, NJ