Mary Queen of Scots

Reimagined tartan upholstery, hipster toile wallpaper, a graying Eurasian server with a Scottish accent (I'm still waiting for young women to own this silver streaked look instead of dyeing) and a random Morrissey single I can't even remember but want to say was "Now My Heart Is Full," all add up to yes, I'm liking Mary Queen of Scots. I'd almost forgotten this was the old Allen & Delancey space.
Despite the presence of larger dishes, the menu lends itself more to drinks enhanced by shared things rather than a more traditional appetizer, then entrée convention. Unfortunately, they were out of two of the six-or-so snacks during the early side of Friday night. No sweetbread beignets or scallop crudo.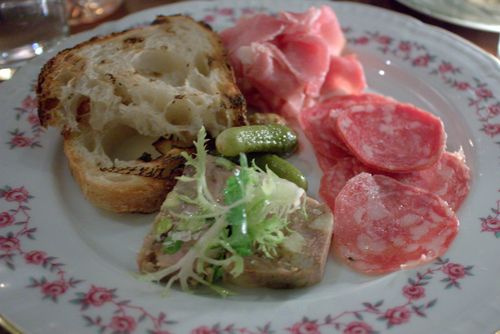 Instead, we ordered a selection of charcuterie. Jamon de Bayonne, a veal cheek, pistachio and chestnut terrine and saucisson. No, you will not find haggis—all offal is Gallic. They do have scotch eggs and devils on horseback, though.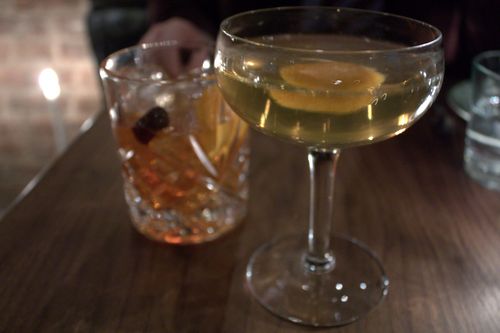 The Phoenix (applejack, rye whiskey, maple syrup, and orange bitters topped with Champagne) wasn't overly sweet, despite the man at the table next to ours being broken the news that none of the cocktails met his "Which are dry?" criteria.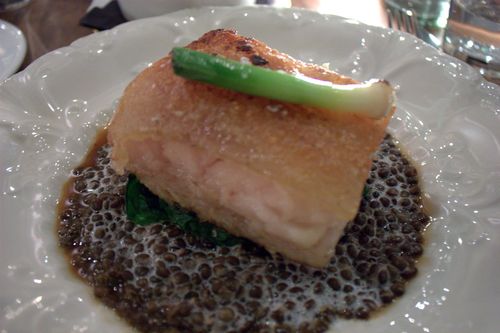 It was the substantial cut of gooey, crisp-skinned pork belly atop a plate of lentils coated in rivulets of foamy butter that made me think sharing would've been a better idea. It's a lot of richness for one. Also, none of the mains really jumped out at me. The preparations may have been interesting, but I tend to shy away from roast chicken, salmon, moules frites and burgers unless I know that one is particularly outstanding. At least the extra side of fried brussels sprouts added a little green to the meal.
When I first started seeing modern tweaks on toile back in 2004, Timorous Beasties, a Scottish design firm, was the name often mentioned. I do not know if this is their handiwork in the bathroom, but I would not be surprised.
Mary Queen of Scots * 115 Allen St., New York, NY