Chain Links: Chuck E. Queso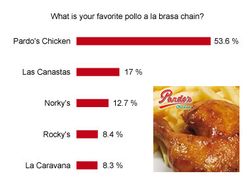 Subway in India serves sandwiches I would actually consider eating (and mint and eggless mayo are offered). The Chicken Seekh uses ground meat, mint and chiles.  I wonder if they have Otis Spunkmeyer cookies spiked with rose water or cardamom?
McDonald's has never been a slouch in the localized menu department. They too, are appealing to Indians with a new Spicy Delights range.
A blogger in Peru happened to recognize the wife of the Pardo's founder during a tai chi class and interviewed her. Pardo's is kind of like the KFC of Peru, but the chicken is rotisseried, not fried. We briefly had one in the West Village that surprisingly kept anticuchos (grilled beef hearts) on the menu. In an informal poll, Pardo's beat out competitors by a wide margin. I want to eat a place called Norky's, based on name alone.
Once you let in a Chili's, the franchises will follow. Moscow now has a Pinkberry. Doesn't $11 (even for a large) seem like a lot of money for frozen yogurt?
Nothing seems more American than Chuck E. Cheese's, so it's strange to see the pizza and playtime chain crossing borders. Northeastern Mexico will be receiving ten stores. Internationally, the restaurant already exists in Chile, Guatemala, Saudi Arabia and the UAE.
Zambia now has a KFC. I'm kind of more interested in the related post, "Lightning kills clergyman, man kills woman over chicken debt."
Red Lobster will be arriving in Dubai and Kuwait City. No alcohol is no surprise and the bacon-wrapped scallop appetizer will have to go, as well.