The Astor Room

1/2 I don't even bother attempting to keep up with new restaurants in Manhattan and Brooklyn first-hand anymore. I'm not out and about every night, the first few weeks are always crowded and awful and then when you've waited a month for a place to mellow out, the chef leaves. Queens, though? Totally manageable. How often does a new restaurant open in the borough with any semblance of fanfare? I take Queens over Brooklyn on many levels (we ended up seeing Blue Valentine in Kew Gardens after eating at The Astor room even though the movie's playing in our own neighborhood—I like a quiet, sparsely populated theater).
Located in the basement near one corner of the Kaufman Astoria Studios, the space functioned as Paramount Pictures' commissary from the '20s until…I'm not sure. No matter, it has been reopened to the public and is serving cocktails and food evocative of the early 20th century. And no, it's not a speakeasy despite its subterranean location, piano player and bearded bartender. The entrance is clearly marked by an awning—and a sign for valet parking—the first hint that this is a thoroughly Queens operation.
Other clues that you are not in Brooklyn: instead of the standard maximum bodies/minimal breathing room banquette along a wall, the tables are well-spaced (and there was no wait for one on a weekend night) and seat four, cocktails are $9, neither a 25-year-old nor 65-year-old would feel out of place, the ceiling is low, white and paneled like in an office building. Despite being more Victorian, a Brooklyn restaurant probably would've put in tin ceilings or some other bygone signifier, the wood wouldn't be so pristine and glossy but artfully dulled down and roughed-up; the brass fixtures not so polished, if used at all. This photo sums up what I mean. The tiled walls are cool and are one of the few vestiges of the original space. The Astor Room is not hip and I can appreciate that. Not following the old-timey playbook endeared them to me.
Then there are incongruencies. Service is opening-week, over-officious–at points staff outnumbered the guests–though I'm certain once everyone gets into synch about formalities like when to replace silverware, where to position the glasses and not to remove bread plates (the rolls are like a focaccia/Cheddar Bay Biscuit hybrid and you don't want a half-nibbled one whisked away) they'll ease up.
It's also difficult to overlook the prices of some of the entrees, especially those creeping over the thirty dollar mark (after an assessment, I see that five of the 29 are over $30 and the average price is $21, which is fair). That could be a tough sell for a restaurant that's not quite a destination; just off Northern Boulevard's car dealer strip, this commercial patch's main draw is the multiplex theater (though, the beer garden, Pizzeria Uno and Applebee's are also popular). For now, the clientele appears to be locals, particularly at the bar, maybe a few movie-goers and a number of curiosity-seekers like myself who'd like to see lobster thermidor and baked Alaska rescued from a continental, hotel dining past.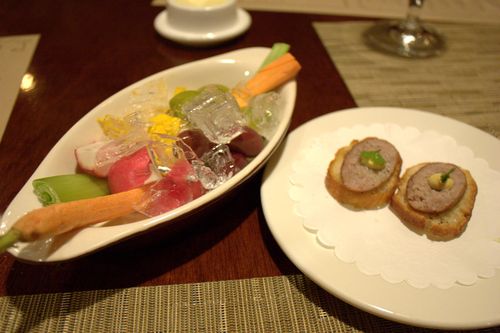 The ice-chilled relish plate and sausage-topped crostini brought to the table while we scanned the menu was a nice touch. Just don't mistake those stiff green stems for celery—a mouth full of fennel can be a surprise if you're not expecting licorice. I particularly liked the pickled, turmeric-stained cauliflower.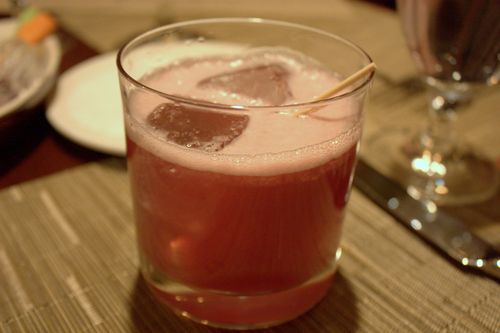 The New Yorker is like a whiskey sour, my go-to, with the addition of claret. The wine isn't pronounced in taste but adds a nice rosy hue.
The shellfish platter for two looks a little sparse, but that's only because they've split up the seafood into separate tiers (putting it all on one tray like I've had elsewhere makes it appear more bountiful). The Pine Island oysters, jumbo shrimp, stone crab claws and half a lobster tail (they threw in an extra shrimp and clams) served with mignonette, cocktail and tartar sauce were fresh and would be a fun light meal with a glass of Prosecco.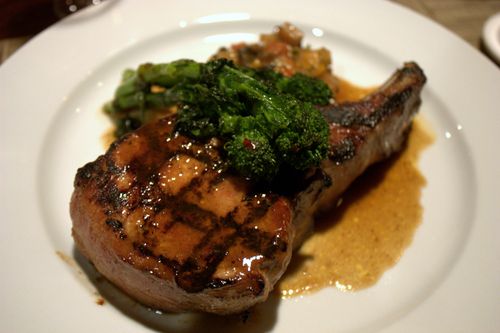 The Coca-Cola pork chop is double-thick and big enough for a second dinner the following evening. The main reason I chose it is lame and it's that the accompanying broccoli rabe and mushroom hash bound with heavy cream and a few tiny potato cubes were the least starchy entrée sides, but I ended up loving the pork chop because it was ringed with just enough fat, the medium-rare came out exactly that and the charred edges caramelized from the soda and reminded me of Filipino barbecue I've had made with Dr. Pepper. The cola really does add a vital layer of flavor.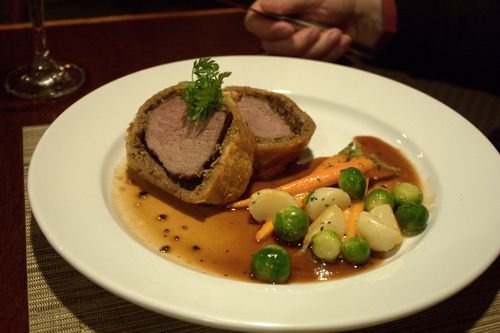 Beef Wellington was the Saturday special (each night has one assigned—I'm curious about Tuesday's chicken cordon bleu because I've never actually eaten the dish) and I do wish I'd snapped a photo when the whole pastry-wrapped bundle of beefy joy was presented to us before being sliced in the kitchen. The Astor Room doesn't have many Saturdays under its belt yet, so they might not have considered asking preferred levels of doneness. James' was the first of the night to order the special and his two slices came from the end, solidly cooked through. Our neighboring table (yes, they're well-spaced but I'm still nosy) that ordered a little later received pinker rounds, closer to the middle of the tenderloin. Not a meal-ruiner, but something to keep in mind.
The Valentino is offered with gin, vodka or rye. I chose the latter for a cocktail that is Manhattan-esque with the bitter addition of Campari. The Astoria (orange bitters, gin, dry vermouth) is hiding in the background.
I ordered a second Valentino (I probably should've tried it with a different spirit) instead of dessert (hey, $9 is a strong incentive to overimbibe), but we were presented with a butterscotch ice box pudding, nonetheless. I won't say no to that. Generously portioned, even split between two, the sweet three-layered dessert (there's a ribbon of caramel and a chocolate base beneath the butterscotch top) with a dollop of vanilla gelato and what might've been malt powder, almost didn't need the brownies. As I've stated before, I like my desserts gooey, caramelly and very American, basic sweet tooth concoctions. And I got it. 
I'm still not convinced that Manhattan dwellers will cross the East River (Dutch Kills or M. Wells are the only exceptions in the general area).  An average Brooklynite (or maybe just he people I know) won't even venture beyond a 15-block radius, so it will take a lot to coax some onto the G plus a non-connecting transfer (or go through Manhattan) to arrive in Astoria. That leaves Queens residents and car-owners, which may be narrower than the restaurant's intended audience–but a solid one. I wish them well.
The Astor Room * 34-12 36th St., Astoria, NY