Sage

Whether it's on Twitter, blogs or even Nightline, I can't seem to escape mentions of The Cosmopolitan. It's unsettling. If you're allergic to hype yet aren't quite in the market for Robuchon, Sage, Chicago chef Shawn McClain's farm-to-table (not yet done to death in Vegas) restaurant in the Arias, strikes a satisfying balance. It's stylish and adult with serious food.
As we now know, Las Vegas is the most expensive dining city in the US and indeed, there are entrees at Sage that approach the $50 mark. It's why the four-course $79 signature menu—which is more of a prix fixe than a tasting—is good value. An additional $40 for wine (or beer) pairings didn't seem outrageous either as long as you're not set on prestige bottles.
Tuna tartare with marcona almonds was the one-bite amuse. I was surprised at how accommodating the restaurant was.  (Then again, I imagine that non-stuffiness is part of the city's attraction for many.) An older Russian couple who were seated next to us weren't drinking alcohol, only ordered soup and stated that they did not like seafood, so they were brought a different opening treat (I couldn't see or hear what it was).
Wagyu Beef Tartare 
Crushed Caper Aïoli/Slow Poached Egg/Crispy Chocolate
I might eat beef tartare one or two times a year, so it was very strange that I ended up being presented with the dish and ordering it two nights in a row, though technically in two separate years. Obviously, the chocolate was wild card, and the wafers were bitter and a little nutty like cocoa nibs, not sweet.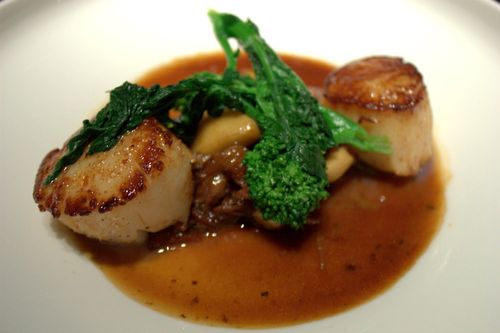 Maine Dayboat Scallops
Braised Oxtail/Wild Mushrooms/Salted Caramel Reduction
This also sounded like it had the potential to be sweet, but wasn't. The broccoli rabe helped balance the richness.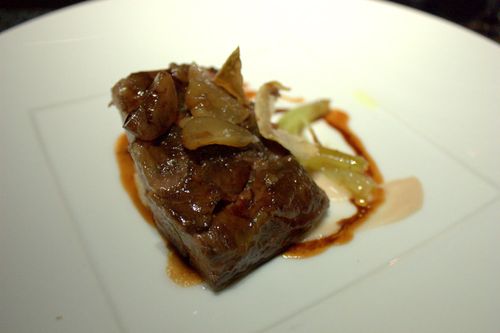 48 Hour Beef Belly
Chestnut Puree/Fig Glaze/Celery Hearts
Once again, a sweet-meat combination. The other choice, an Iberico pork loin also had a candied component: smoked dates.

Brioche Bread Pudding
Roasted Pecans/Meyers Rum Sauce/Brown Butter Ice Cream
I've stated my preference for gooey, substantial American desserts before, and this is exactly what I got.
Sage * 3730 Las Vegas Blvd., Las Vegas, NV