What You'll Be Eating in 2011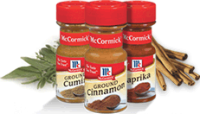 It's easy to make fun of corporate food pronouncements and trends. 64% of Americans eat a gingerbread man's head first, fried vegetables and hummus will be hot for 2011, local everything and ethnic-inspired breakfasts…or will it be food trucks and celebrity farmers?

But I have to admit that McCormick's annual Flavor Forecast always manages to come up with unusual combinations and suggested recipes far more sophisticated than I would expect from the popular spice brand. (Frankly, I'm a La Flor girl because they're local, always the cheapest and use glass bottles, but they only appear to have two recipes on their entire site: sweet and spicy cilantro chicken/pollo agridulce con cilantro and pork chops in wine sauc, missing the very important E.)
Caramelized honey and adzuki beans? Green peppercorn and goat's milk? Perhaps I have been reading too much Taste of Home, sheltered in my New York-centric bubble. I thought Americans didn't cook anymore. Now I'm faced with McCormick recipes for
Salmon and Scallop Ceviche with Herbes de Provence Popcorn and
Peri-Peri Fennel Bloody Mary with Vodka-Infused Tomatoes? I had no idea.