Between servers ignoring tables speaking English (i.e. us), snickering about my cleavage—and the bizarre last straw—finding a screw in one of our dishes, my experience with foodie-approved Au Pied de Cochon was unappetizing to say the least. I would never return unless I felt like being hazed like an outcast in a high school cafeteria.
So, when I heard about Au Pied de Cochon by way of Long Island City, my first thought was "These fuckers?" Ok, ok, M. Wells turned out to be the project of just one chef from the Montreal restaurant and his wife. Innocent until proven guilty.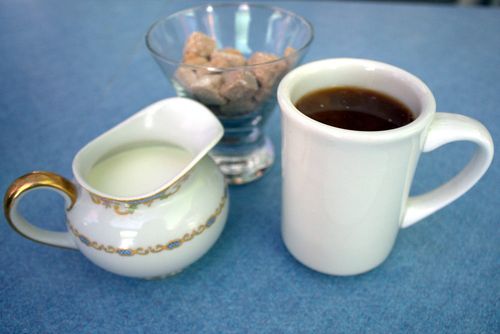 And the gussied-up diner ended up being completely charming despite my aversion to brunch, or more accurately brunchers. I think one of its saving graces is the isolated location, despite being right across from midtown with a 7 stop feet from the front door. There was a small crowd when we arrived around 1pm, and we probably could've gotten a table within ten minutes but opted for two empty stools at the end of the counter.
I didn't even mind the languid pacing—I had my coffee (Oslo, not Stumptown) and wasn't in any hurry. However, the dense, cakey doughnut brought over to buffer the lag between ordering and receiving our food was appreciated. 
I'll order anything involving bone marrow and was curious what how escargots bone marrow with shallots and red wine puree might be presented (I'm not one of those customers who asks questions). Tight quarters with nearly everything on display, we happened to be sitting across from a prep cook so I could see this dish being composed. A bone halved lengthwise gets dotted with pink and gray blobs, then heaped with breadcrumbs and parsley, ready for the broiler. Crispy and unctuous, this preparation felt like a tiny luxury rather than the purist, fatty style more typically served.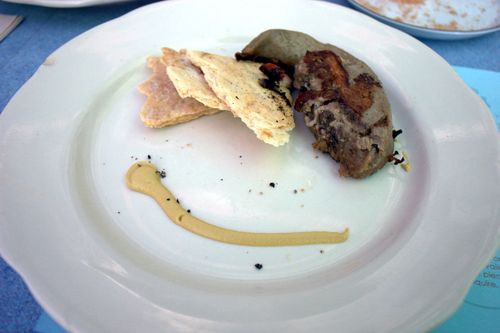 The pickled pork tongue was a last minute extra, and I'm glad I squeezed it in. The tongue was tender, almost pot roast shreddable, and wonderful with the flaky housemade (the worst word but accurate) soda crackers and sharp mustard. None of it was much to look at on the plate, but this is exactly the kind of spartan snack I'd love to come home to after work.
I did not partake in the already renowned breakfast sandwich on a housemade (there it is again) English muffin. I'm just not crazy about breakfast sausage; I think it's the sage. Then again, my sense of taste and smell could be off because I kept getting a very mild whiff of durian throughout the meal, and it turned out it was coming from this handheld meal. Weird. James declared the sandwich better than what he churns out on his completely unnecessary all-in-one mcmuffin making gadget. A win for M. Wells.
M. Wells * 21-17 49th Ave., Long Island City, NY