It's Always Cheesy in Philadelphia
I always look forward to my copy of Taste of Home. It only comes every other month and brings me a different joy than Saveur, which I intend to read but rarely get through, Bon Appetit and Food & Wine, which are skimmers or Cooking Light, the only magazine I regularly cook from even though it's the least exciting.
Taste of Home's foundation is every day meals, nothing wildly exotic or labor intensive with no fear of cans or packages. I could imagine the chicken & vegetable stir-fry or the apricot-glazed pork tenderloin ending up on my table if I were a child today.
I'm only on my second issue, but I'm already seeing themes emerging.
So bad it's bad: alfredo sauce and cream cheese where they don't really belong. In fact, there is a full page Philadelphia ad advising readers, "Make your pasta more primo when you stir in ½ cup of Philly." There is a section on the Kraft Foods site called, "i never thought i could add Philly to.." The lowercase is supposed to make putting cream cheese in Cajun, Thai and Latin dishes to make the spice more palatable, seem innocent? And I just saw a TV ad where Paula Deen is encouraging the abuse of cream cream cheese, too. Actually, it's a contest—I'm now going to think up the most inappropriate placement of cream cheese in a foodstuff. Caesar salad? Baked beans? Barbecue sauce?
In this issue, the soft cheese is called for in easy enchiladas, meatball sub casserole and pretty stuffed spring peas. Alfredo sauce shows up in a white chili (at least it's not white from mayonnaise) and a chicken cordon bleu pizza invented by a teenage boy, so you kind of have to give him some props for experimenting in the kitchen.
Some things are put where they don't belong but are genius. Yep, bacon baklava.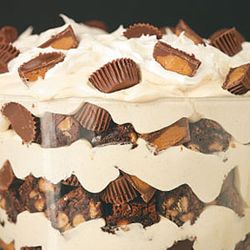 So bad it's good: peanut butter brownie trifle. This dish is simply mini peanut butter cups and brownies baked with peanut butter chips interspersed with layers of instant vanilla pudding and topped with frozen whipped topping, a.k.a. Cool Whip. Just as I didn't know that wine coolers were malt liquor, I had no idea Cool Whip wasn't a dairy product for many years. And I would totally eat a big bowl of this trifle right now and wash it all down with a Blue Hawaiian Bartles & Jaymes.