Choptank

My experience with Maryland's Eastern Shore is next to none—a weekend in Baltimore is as close as I've come—which is why the name Choptank only conjured up aquarium carnage. Apparently, it is a river, and the owners themselves weren't sold on the name until last month.
I knew it wouldn't be rustic even if they'd gone and warmed up the former stark white Bar Q space with brick and earth tones. But I was half-hoping for something more shacky and less lentils and crème de violette cocktails (despite my love for that mauve liqueur).
The complementary crab dip and Old Bay chips was a nod in that direction. I liked this, not as much as a Phillips crab pretzel at a rest stop, but close. And a 20-ounce glass of Heavy Seas Loose Cannon India Pale Ale helped matters.
I didn't go as far as ordering fried chicken (I didn't want to indulge in front of a fried chicken-loving Lent-observer) but a Virginia ham plate didn't seem too off base. Besides, it was almost too dainty to count. The dish was Manhattan-ized, shrunken in scale yet off, like beds and staircases in metric countries (ok, that's most outside the US). Lilliputian biscuits with enough butter for triple the amount. Luckily, I wasn't sharing.
Then again, non-sharing didn't afford a taste of the steamed littleneck clams.
The crab cake was a nice meaty ball, the opposite of skimpy, or maybe it was just outsized next to the baby iceberg wedge drizzled with Thousand Island dressing, Saltines and small handful of string beans and chopped egg. It's hard to gussy up a crab cake without seeming silly.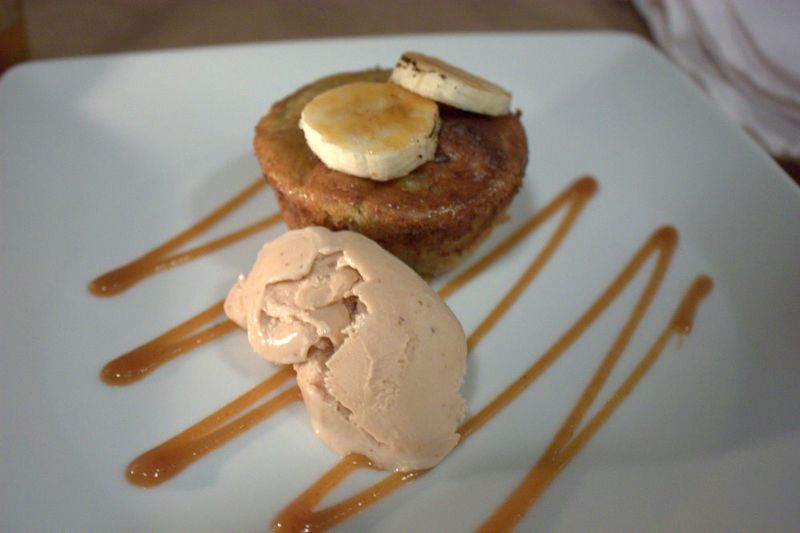 Banana bread pudding was a sweet little muffin with what I think was caramel ice cream (I just got made fun of for saying carmel, not pronouncing the A—I just can't put in the extra syllable and am ok with it).
I wouldn't rush back to Choptank but I could be convinced to stop by for some peel 'n' eat shrimp and a beer if I was in the West Village.
Choptank * 308-310 Bleecker St., New York, NY