Now That's Fancy Fast Food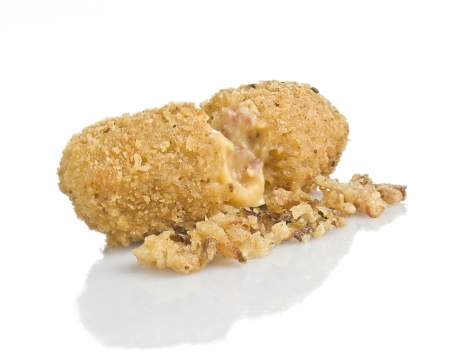 Wow, I thought Brooklyn's Ikea hosting Wednesday Rib Nights was radical. Leave it to Iberia to create innovative tapas for their Swedish retailers' cafeterias. Madrid-based, Australian chef, Adam Melonas, has developed a set of six "Swedish Tapas" that began appearing in 13 Ikeas in Spain and Portugal last month. A new half-dozen are promised every three months.
The first batch includes bizarre hybrids like the Hotdog Croqueta, pictured above, that incorporates mustard, ketchup, onion, bun and frankfurter flavors into a fritter. Other bite-sized nibbles include Swedish meatball empanadas and a Rice Krispie-coated croquette of Iberico ham and prawn mousse.