North Oregon Coast Dining
The Oregon Coast, known to cynics (ok, myself and a few friends) as "suicide city," isn't the most uplifting region of the country. It's chilly, damp, rugged, sunless, and there really aren't any jobs to speak of. My mom and her husband moved to Nehalem a little over a year ago and have already thrown in the towel. Well, they're keeping their mobile home for weekend excursions and future early retirement, but it's back to the Portland area for now.
I was only in the area briefly, yet happened to be there (at the lovely Manzanita Inn, wood-paneled late '70s chic complete with Jacuzzi and captain's bed built into a wall nook) on a freak of nature 80-degree September day. Totally unheard of. I even got a sunburn, which isn't saying much since I also managed to turn red and peel during an outdoor wedding in Wales.
Unlike, say, the Chesapeake Bay, Nantucket, or other recognizable Atlantic Ocean destinations, the Oregon Coast isn't particularly known for its edibles. People don't even eat seafood in the state. Seriously, I never ate fresh fish, crustaceans or mollusks growing up. Gorton's all the way. I even stumbled upon a message board discussion about why Portland lacks the fine dining seafood restaurants of Seattle, San Francisco, Vancouver or even landlocked Las Vegas—unadventurous, cheap denizens being the theory.
Nonetheless, here is a rundown of what I ate. As to what I drank, that's a serious question. No matter how much I imbibed, I did not become drunk, just tired. They say that you become inebriated faster at high elevations like Denver. Would it stand to reason that at sea level you gain a tolerance for alcohol?
Wanda's Café, a cute restaurant high on '50s kitsch and hefty portions, is popular with both locals and tourists. There is often a long wait, I've been told. We were seated no problem on a Friday morning, though. As I've said before, breakfasts rarely happen in my world and normally I get up too late on vacation to indulge in both breakfast And lunch. This 10am plate of eggs benedict was a concession all around. For me, that was early. For my mom and sister that was late. They're dog people. Cats don't need to be walked around outside at 7am, which is only one reason why they are a superior pet. This very second it's Saturday and I didn't wake up until 11:30am, proof that you only inherit so much from your family.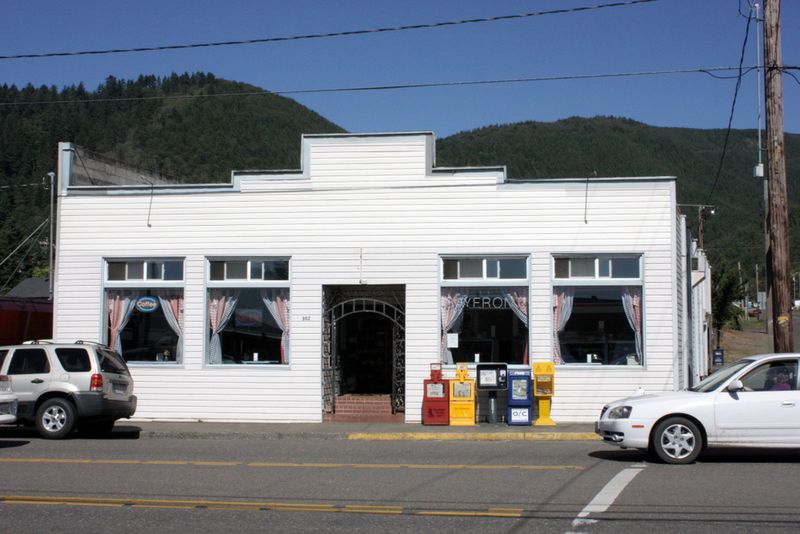 As if hollandaise and ham topped eggs were not rich enough (I take full advantage of my normal food/alcohol/nicotine regulating while on vacation—hollandaise appeared before me twice in one week) I also picked up a few doughnuts at Bay Front Bakery in Garibaldi while hitting thrift/antique stores. Not because I was hungry for sweets but because I had been regaled with tales of amazing fritters fresh from the oven.
I picked up an apple and a cranberry, which happened to be the two-for-a-dollar special that day. They had just the right balance of soft pliable middles and crackly, fried, glazed edges. My pecan roll was a bit dried out. The fritters are where it's at.
Just as I predicted, by 2pm I was not hungry for lunch. My sister and husband bowed out of the excursion for Dungeness crabs at the Fish Jetty and my mom and husband showed up but has no interest in eating the creatures. Sister is vegetarian and mom says she only eats her seafood breaded and fried. People!
With roots in the Baltimore/D.C. area, James is a crab fanatic. I, myself, have only ever had blue crabs and in his presence. Despite more than two decades on the West Coast, I never ate a single crab (ok, once in grade school a friend's family brought me along to a crab festival in Astoria but I don't recall actually eating any, just the plastic bibs, wooden mallets and the thought that maybe crab-eating was a black thing because none of the white people I knew ever ate them).
So, we were excited to try Dungeness. "This is the first time all week I've seen you two smile," remarked my mom. We were totally alone in our crustacean fervor.
The Jetty Fishery is down a steep hill where Nehalem Bay forms an inlet. There, you can rent a boat and catch your own seafood or have whatever is on hand in tanks cooked for you. There are a few picnic tables, an outhouse, a convenience store where you can pick up soda or beer, but oddly no sinks or handiwipes in sight. Eating crab is messy. Bring your own handiwipes.

I don't think James realized the size difference between blue and Dungeness crabs because initially he was going on about getting half a dozen. That's excessive. I can't recall the exact prices per pound, possibly $8, but we ended up with three crabs and three oysters (I didn't even think to ask what variety these monsters were) for about $48. We had everything steamed, took a number and waited about 20 minutes for our chosen items to arrive in a metal pan. Old Bay is not de rigueur in Oregon, but they do have big plastic shakers of seafood seasoning, very similar in flavor, if you ask.
I have not eaten enough crab in my life to make authoritative taste comparisons, but for sheer ease of eating, Dungeness is a million times more superior. Blue crab picking is fiddly, hard work and I leave still hungry, hands cut up and stinging. This is like eating real food, more like lobster, lots of payoff.
The oysters were so meaty, it was practically like biting into a cutlet. I don't know if these are typically eaten raw, it seemed assumed that we'd want them steamed. Smoked oysters are also a big coastal treat. I ate the first oyster immediately, and got a mouthful of warm briny liquid. I didn't tackle another until much later and the cooled down meat had absorbed all its juice. Get them while they're hot.
For dinner, my sister and I treated my mom for her birthday. Choosing a suitable venue proved challenging. Price wasn't so much the issue, but finding someplace special occasion worthy that wasn't stuffy. Not that anyone gets dressed up to dine in Oregon anyway. Polos and Dockers are as good as it gets.
Wine bars are not ubiquitous at the coast, and in Seaside, the Jersey Shore of Oregon, they are particularly unusual. Casual, fun, non-crappy was what I wanted and that's what I got with Yummy Wine Bar. Yeah, the name's a bit eh, but you have to keep context in mind. This isn't a major city where small plates and wine flights are on every corner.
We chose the meat plate, cheese plate and hors d'oeuvre platter to share and start. Split amongst six, and two non-meat-eaters, the cheese was gone in an instant. In addition to crackers, we were also brought warm slices of focaccia with honey butter.

The spoons contained a black bean puree topped with smoked trout. I picked a Loosen Bros. Riesling and a La Rioja Alta Rioja for the table. Simple but good.
My attempt to eat three substantial meals was just about thwarted by these tiger prawns. I chose something with lots of fresh produce—and the dish enlivened by capers, lemon juice and basil was light—but I could barely get through it. And dessert was an impossibility.
I was looking forward to a few after dinner drinks at the only bar in Manzanita, unfortunately, the San Dune Pub had a $5 charge to listen to cover band versions of "Superstitious" and rowdy frat guys were crowding the entrance. Instead, I drank a few bottled microwbrews in my sister's motel, which was also party central with youngsters drinking and running around outside all night (apparently, James and I had booked the classy, pricey adult no, not "adult" hotel in town) and tried to avoid all of the 9/11 coverage on TV.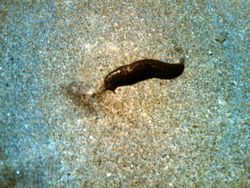 On the two-block-walk back to our hotel I spied one of my Northwest enemies, the slug. Ack, I'd marveled all week about how the unusually warm weather must be keeping these normally rampant slimy guys at bay. There he was on my final night, quintessential Oregon.

Wanda's Café * 12870 H St., Nehalem, OR
Bay Front Bakery * 302 Garibaldi Ave., Garibaldi, OR
Jetty Fishery * 27550 Hwy. 101, Rockaway Beach, OR
Yummy Wine Bar * 831 Broadway, Seaside, OR