Shake Shack
Did I love it? Yes, I did and plan to tackle the outdoor location now that Fall weather is creeping up and I'm becoming zen about insufferable lines.
It's one thing to say you've never eaten at Masa, many haven't, but it's quite another to admit you've never been to Shake Shack. I'm
line-phobic, I'm sorry. And I still haven't braved the Madison Square Park trauma. It just happened that I was unexpectedly dispatched to the Upper West Side on a Saturday afternoon.
Try Gus and Gabriel because it's new? Kefi, which has always sounded vaguely interesting but is just too far? I've already tried the uptown Fatty Crab. It had to be Shake Shack.
Now that the weather has become balmy and manageable, that brief painful humid spurt already seems like the distant past. I wouldn't say that 90-degree, sauna-like conditions are optimal for double cheeseburgers. But all went smoothly, even during prime time, we didn't wait more than ten minutes for food and were able to snag a table inside.
My bun literally disintegrated from the hot air trapped in the waxed wrapper combined with the heat from my hands. The tall layered sandwich began to meld into one squished mass on the end where I was holding it. Which isn't to say that the juicy, melted mess wasn't tasty, I just had to devour the burger faster than normal because it was falling apart before my eyes. Seasonings and any subtleties of flavor were lost, no time for pondering patties.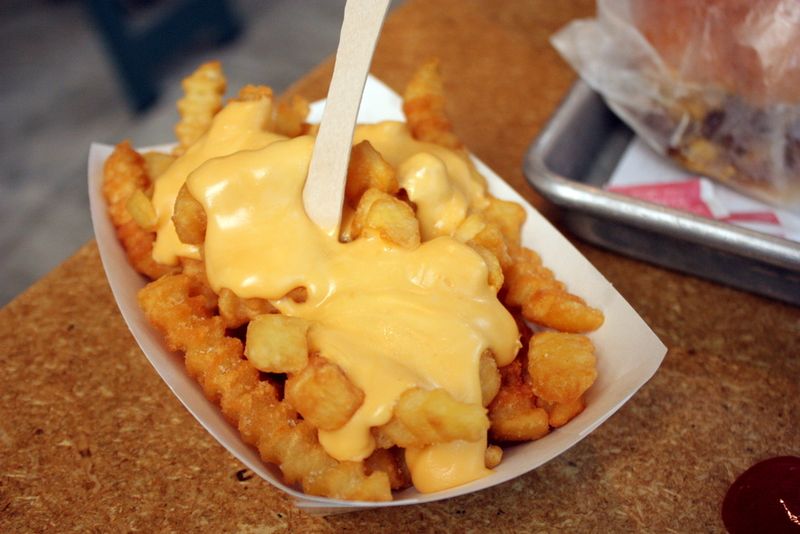 And because that wasn't enough molten gooeyness, we ordered cheese fries. Once you've crossed the line into excess, there's no sense in retreating. As a fan of processed, bright orange, the thick, mild real cheese sauce was a shock. A good shock, not bland in the way macaroni and cheese can be (I think I'm a rare mac & cheese hater). Now I'm ruined for Nathan's cheese fries.
If I had any doubts as to whether Shake Shack qualified as a chain, they have been quelled. Seven new overseas branches are planned for Saudi Arabia and Dubai. Maybe they can make lamb burgers.
Shake Shack * 366 Columbus Ave., New York, NY