Le Relais de Venise

Le Relais de Venise is responsible for cutting my lunk-headed
attempt at banning sugar, starch and alcohol from my diet for the month
of August three weeks short. I am weak in the face of golden skinny
fries and inexpensive red wine. $20 bottles of drinkable Bordeaux? I
caved.
Locations already exist in London, Barcelona and Paris, where the restaurant originated. I can't put my finger on why…well, maybe the maid outfits the all-female servers wear combined with a blind Francophila (I'll never forget the story about Japanese tourists in France being so traumatized by rude treatment they had to go into therapy)
but I can see Japanese loving this place. And from what I understand
the no reservations policy creates line-ups in other cities. No such
thing on an early Friday evening in Midtown. This could be the result
of the office-heavy location, lack of awareness or possibly because New
Yorkers don't like their steak soft and sauced.
And
you will be ordering steak since that's the only entrée on the menu.
The $24 prix fixe includes a salad with a mustardy tarragon dressing
and walnuts and steak frites in two portions. This quirk is intended to
keep the food warm; plates are kept at side stations atop little
flames. It could also induce panic to Americans accustomed to big fat
slabs of meat rather than a fan of rosy protein that could fit into the
palm of your hand.
I do prefer minerally beef with fatty rims
and charred exterior, pale pink inside, but I can appreciate non-aged
sirloin as well. I'd take this over Outback Steakhouse, you know, just
for chain comparison. Oddly, medium-rare is not a choice. Degrees of
doneness start at bleu, go up to rare then jump to medium (let's not
talk about well). We took a chance on the medium, banking that it would
be on the rare side. It was.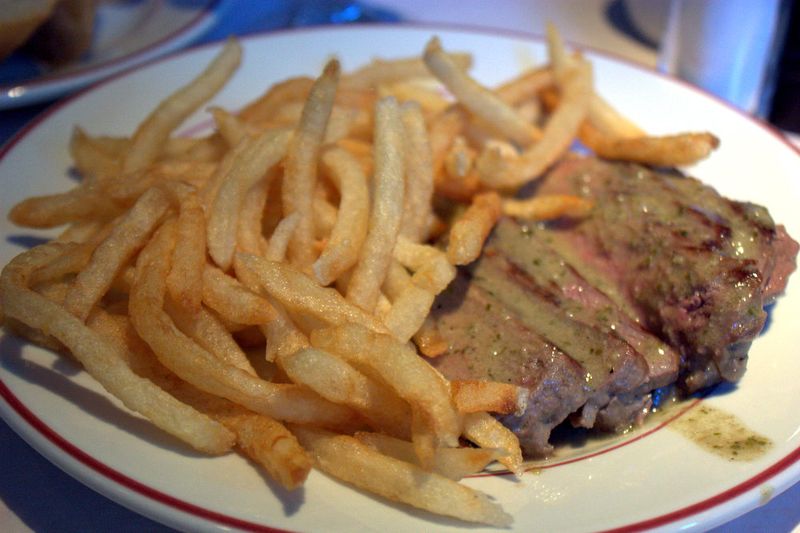 The
sauce is butter rich, herby and possibly flavored with liver. That
sounds a little odd but there was an unmistakable offal funk in the
background. I actually preferred the sauce with the fries, which were
perfect in their golden yet still pliable form.
Service
is swift. Despite only a handful of the tables being occupied in the
spacious corner restaurant, courses came quickly. Our seconds were
brought before we had polished off our firsts. My barely eaten fries
were topped off and made equal to James's pile that had a deeper dent.
Advice to fried potato gluttons: the more fries you initially eat, the
more will be replaced.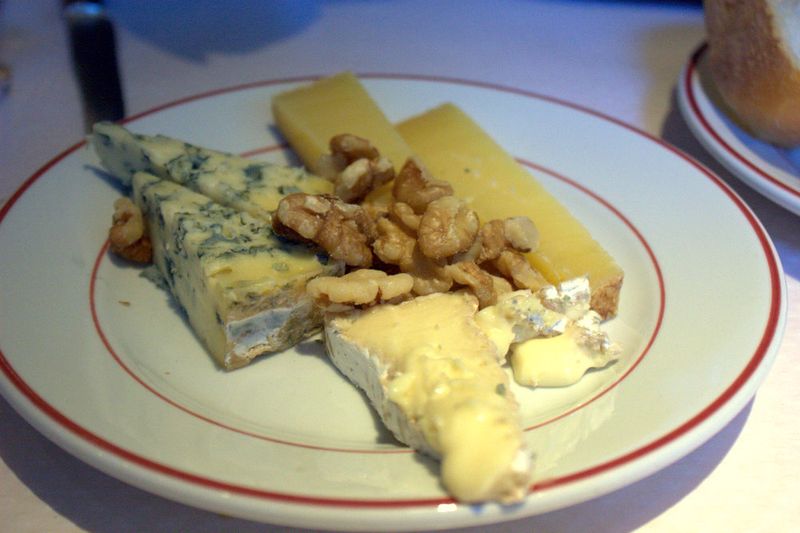 The
dessert list was surprisingly long. We opted for cheese since I was
still operating under the delusion that I was detoxing (though I've
gone soft on alcohol, bread and potatoes I do restrict my sugar) and
fat is preferable to me than sweets. Comte, brie and a blue of some
sort were a nice finish. For only a few bucks more you can get a glass
of port with your cheese but we still had wine to carry us through.
I
don't have a good feeling about this location and the concept seemed to
confuse many who walked up to the window menu with only one meal
listed. But it's definitely worth at least one try even if you're not
in the immediate neighborhood.
Le Relais de Venise * 590 Lexington Ave., New York, NY