Rhong Tiam

I don't want to overstate their case, and I'm wary of mid-teens pricing, but Rhong Tiam definitely has some of the best non-Queens Thai food I've had recently. Dare I say even a bit Sripraphai-esque?
I think I'm responding to the Bangkok styles they both produce, which I've interpreted as rich curries cooked down to a thickness that ingredients stick together, spicy with balanced sweetness. I have heard that Bangkok's cuisine is considered sweeter than in the rest of the country, though I doubt that means Brooklyn-style sugary pad Thai. Just that the food is sweet in comparison to the austere lime-chile-ness of a northern larb or a fiery hot-and-sour southern fish curry.
You'll be fine as long as you stick with the Thai dishes. I wouldn't cross over into Vietnamese summer rolls or salmon teriyaki, though I'll admit I was curious about the Thai nachos using shrimp chips. I'll save that nonsense for visit number two.
Obviously, they just like using familiar lingo, hence this "Thai chorizo." It's crumbly mild grilled pork sausage that doesn't taste like anything Spanish (or German or Italian, for that matter). I ate little bites of chile with mine but the slabs of sliced ginger were too much for me. It is traditional, though.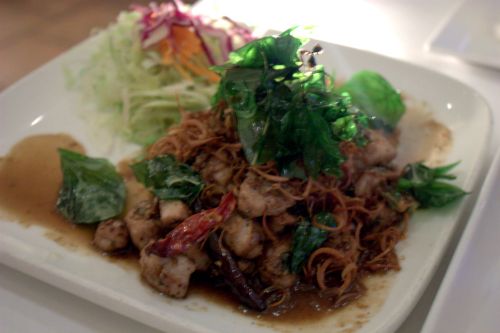 Yes, "pork on fire," dark, possibly soy sauced cubes of meat, with forward chile heat and a hint of lemongrass, is spicy but hardly as punishing as hyperbole on other blogs would lead you to believe. You just need a small pile of jasmine rice, here, molded into a conical shape, to cushion the blow. All of the components are discernable through the heat, which is a good sign. If you want to have your ability to taste obliterated with a burn that surrounds your mouth, grabs your tongue and creeps into your ears, you should try the Southern Curry at Sripraphai. It's a bit much, frankly.  Crispy (I'm still not sure why that word is an irritant to Robert Sietsema—I'm just defensive because I'm a crispy/tasty/perfect abuser) fried basil, lime leaves and onions add both texture and mellowed herbaceousness.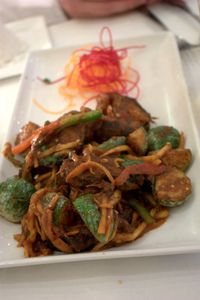 This catfish preparation isn't for the impatient, there are a lot of fiddly bones to contend with in these fried cross-sections. I always thought that the little bones were rendered edible with this style of fish. I hope so, because I eat them. Maybe I've been doing this wrong all my life. I also eat shrimp shells. Roughage, right? The absorbent green Thai eggplant halves added more crunch and the slew of krachai shreds lent a fresh bitter sweetness that I prefer over sometimes too pungent ginger.
Rhong Tiam * 541 LaGuardia Pl., New York, NY