Frank Pepe Pizzeria Napoletana

For not being much of a pizza aficionado, I managed to try two very good, very different Neapolitan pies in one week. First Brooklyn's Motorino, then New Haven's famous Frank Pepe. I know I was just bemoaning the lines at Lucali (Saturday at 5:25pm there were already about eight people out front and they don't even open until 6pm) so it might seem nonsensical to drive two long hours in a violent rainstorm in order to stand in line at a potential tourist trap.
But it all ended up being worthwhile, the 35 minutes or so, mostly under an awning, didn't kill me. (I didn't partake, but I did like that drinking bottles of beer from paper bags while waiting outdoors seemed perfectly acceptable.) And the pizza was better than expected.
The non-New York-ness of being in a genuine pizza parlor–spacious wooden booths, enormous $11 pitchers of beer and big metal serving trays clanging around–was refreshing. I perked up immediately; the second I picked up the laminated one-page menu, I felt less bedraggled and damp. Or maybe it was the heat of the coal oven that they claim burns at 2,200 degrees Fahrenheit.
The menu was kind of baffling in the amount of variations offered. Maybe I'm not used to choice. Small, medium and large then fresh tomato pie or original tomato pie, mozzarella or not, toppings were grouped into different prices and you could also go half and half. We were confused because there's a pricing matrix at the bottom of the menu as well as prices listed at the top. We had to pull out a calculator to determine if they were the same (they were).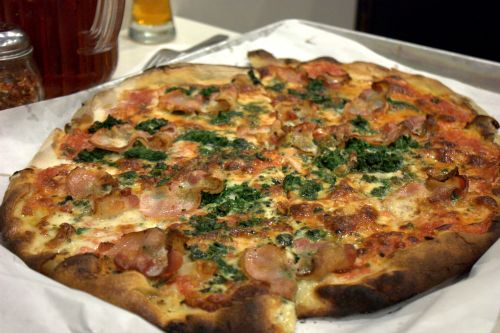 Getting a clam pie was a given, but if we drove all the way up there we needed to try another style too, so we piggishly ordered two mediums: a white clam pie with no mozzarella and another with spinach and bacon. I guess that's a weird combo but the novelty of bacon on a pizza was impossible to resist and the clumps of greens gave the illusion of a healthy counterbalance. The other vegetables like mushrooms or broccoli just didn't seem right. I have a hard time with broccoli on a pizza. As you can see above, there is a fair amount of cheese on these pizzas.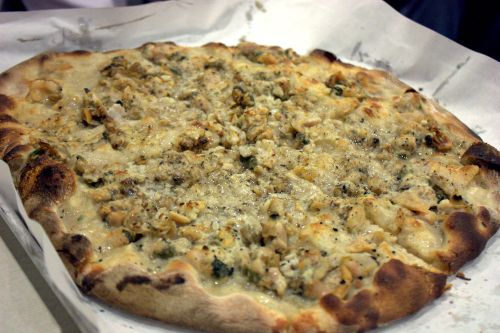 There's nothing delicate about a Frank Pepe pizza. The browned crust is stiff and more than a little chewy. These are filling irregularly shaped slices. The squiggles of briny clams are substantial as well, with nice chunks of soft garlic, rivulets of olive oil and a dusting of parmesan that all meld into one oozy layer. I think mozzarella would've been too much, though the popular addition of bacon I could totally get behind. But it's best to experience tradition before going wild with extras.
I'm not sure if this original location is the best (there are currently branches in Fairfield and Manchester) but I didn't want to take any chances. Pizza-loving gamblers should note that they will be opening a Frank Pepe location inside Mohegan Sun this coming Wednesday. In some ways that makes more sense than transporting Rao's, Bouchon and the like to Las Vegas. At least they're keeping it local.
Frank Pepe Pizzeria Napoletana * 157 Wooster St., New Haven, CT