Prime Meats

I've been feeling guilty for ignoring restaurants within a three-block radius of my apartment for those in neighboring states. I can dig the Brooklyn scene, too. Or at least I can try.
I showed up to Frankies 457 when it first opened, liked it fine, yet didn't return for four years. So, who knows if my urge to finally visit Prime Meats will garner a return visit any sooner than 2013. If you're lucky like me, the Portland Coffee Messiah will pass you by as you stroll down lower Court Street.
Initially, we were scared off by the quote of a 40-minute wait at 9:05 on a Thursday. It's not a big place so I ordered a Prime Manhattan (Rittenhouse rye, Buddha's hand bitters and some sort of vermouth, I assume) and figured if I finished it before being seated, we'd move on to another plan. I don't have a problem eating at bars but I do like to sit when ingesting more than snacks or finger food, and Prime Meats is stool-less for the obvious issue of space constraints. I was still sipping about 20 minutes later when we were whisked to the outer edge of a table for six already occupied by a young couple in the attached corner booth. Perfectly bearable wait.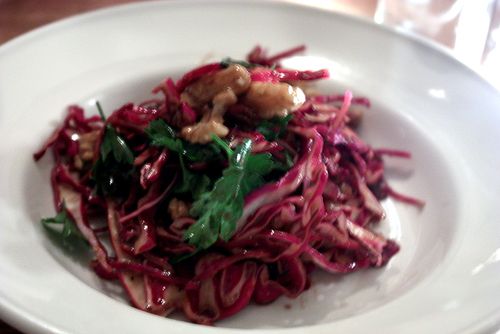 We just ordered two things from the brief menu. A red cabbage salad that was slicked with just enough oil and punchy vinegar. The walnuts were the right finish, and they tossed in a few more than were probably necessary, which is absolutely how I would've made it.
The lighting is abysmal (for food photography, not romance, but I wasn't there for romance, in fact I got into a tiff over something stupid…James having no opinion on which salad to order. I'm not passionate about salad either, but you must know which one of the three choices sounds the most appealing, right? Ok, I'm a snap decision beast) so despite the fact that I've gotten quick and stealthy with my largish camera since acquiring it at the beginning of the year, I was stuck taking candlelit photo after candlelit photo to no avail. Pure blur.
This is what prompted commentary from the peanut gallery at the other end of our table, "She's Twittering her meal." Ugh, boo to communal seating. "Dude, you're supposed to talk behind people's backs not in front of their face." And clearly I'm blogging it. Twittering? Come on now.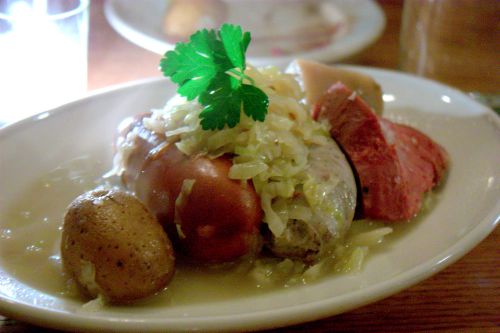 It's hard to order choucroute garni and not think fondly of Irving Mill's charcroute plate, but the two restaurants are vastly different animals and must be judged on their own merits. There was a nice variety of meats—brisket, pork belly, super sagey weisswurst and bratwurst–swimming in a pool of sauerkraut soup. The combo needed mustard and brown bread. Oh, the paying for bread debate. They did have it for a charge and I'm not against the practice, but with a cash only policy I had to be careful with the extras.
Prime Meats * 465 Court St., Brooklyn, NY