Maison

Times Square is tricky for dining, most would say avoid it altogether, but sometimes it's just not worth fighting. There are out of town guests who enjoy being shown what makes NYC special—whether it's finding a platter of Filipino sisig that they can't get where they live or wowing with high caliber multicourse tasting menus or hip neighborhoody places that cure their own meat—and then there are those who would be perfectly happy eating anything, anywhere as long as it's within a reasonable walking radius of their hotel, and not exorbitantly priced or a mob scene. It's not about the food, you're just trying to catch up. Though if it were up to me, I'd walk way west to Pam's Real Thai or Tulcingo.
My grandma (I can't say grandmother because it just doesn't sound right even though it reads better. I could really go all out and type the more phonetic gramma, but that's a hideous looking word) has never indicated any interest in French bistro food, but Maison it was. Two-blocks from the Sheraton and no wait on a Friday night are good enough for me. I don't know what suits her taste because I rarely make it back to Portland and she's more likely to take a cruise to New Zealand then come here. (I really need to learn some lessons from Oregonians like how to live on social security and babysitting jobs yet travel regularly. I do think that living in RV's and mobile homes, as other immediate family members do, certainly sucks less of your income than renting in prime Brooklyn, no secret there.) She has only visited NYC once before, along with my mom and sister in 1998, the year I moved here. I recall a positive experience with Sixth Street Indian, grumblings over Zen Palate (my sister's influence) and me losing my shit because they went to Tavern on the Green without me and when I got off work to meet them, bought me a Subway sandwich and told me to put a sock in it. I didn't have the good dining sense to yet realize I may have been better off eating the damn footlong and shutting up.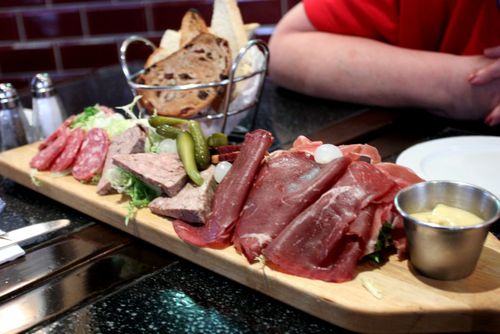 Maison's charcuterie plate was better than a Subway Club® and the wooden plank overflowed with a larger selection of meat than I'd expected. It's doubtful anything was cured or aged in house, but the smoked duck and pate wedges were particularly winsome.
I didn't break any new ground and ordered the steak frites. Frankly, the best part was the fries…and the herb butter. The meat wasn't so flavorful. Sometimes I just should order a plate of fries if that's what I want. The leftovers did make a good breakfast steak sandwich the following day.
For the record, grandma ate penne with chicken and James had steak au poivre. I did not snap photos because I was trying to be restrained.
The service was surprisingly friendly and accommodating. I always assume that if you work in Times Square you must be cranky from dealing with tourists all day. Maybe I'm just projecting. No rushing, I was able to sip my second glass of Shiraz in peace. It's also worth noting that Maison, like its relatives L'Express and French Roast, is open 24-hours in case you find yourself starving on Broadway and W. 54th in the middle of the night.
This might be what I look like in 38 years, though I don't imagine my eyes will turn blue. Grandma also told me to give up my growing out my gray hair nonsense. No need to age yourself prematurely but I'm still continuing my experiment. I can't stop yet.
Maison * 1700 Broadway, New York, NY