Banh Mi Cart

1/2 I'm not sure if the banh mi cart is getting more tolerable—they hand out numbers when you order now—or if the misty weather kept people indoors for lunch, but around 2:02pm there was only two people waiting for sandwiches and one woman in line ahead of me asking staff (a whopping three, two men, one woman), "What should I order?" She was steered toward the classic #1. I'm a strict #1 gal, myself, but following right behind the clueless eater I didn't want to seem like a lemming and went wild and got the meatballs instead.
Eh, should've stuck to my guns. The meatballs were delicate and springy, turning into a soft near-spread when pressed between the baguette. They were definitely spicy yet somehow under seasoned and bland.
My only real pet peeve (because I must have one) is that they seem to have stopped cutting the sandwiches in two. I need petite halves for at-desk nibbling. It's just not ladylike to be seen with a dripping meatball-filled hoagie while at work (on my free time, sure).
I also noticed jerky on the menu (and no shrimp cocktail). (6/10/09)
The crowd is very manageable at 2:30pm, no more than a few minutes wait. No problem for a late luncher like myself. I did notice that they raised the price to $6 since my last visit way back in early 2009, which kind of breaks my self-imposed $5 and under lunch rule. But still, $6 isn't outrageous in this neighborhood and I brownbag it 70% of the time anyway. Also, now have a pork fu and eel sandwich, 11 styles in total. (5/11/09)
I was excited to hear that the city's only banh mi cart had moved even closer to my office, only about three blocks away on the corner of Pearl St. and Hanover Sq. It's a sad state of dining affairs down here so little things mean a lot. 
But Friday there was a huddle of about 12 people in front of the cart at 1:30pm. I'm not patient in the best of circumstances so unorganized, non-lined up clumps of customers was too much for me.
I'll go later next time and see how things play out. (5/8/09)
Oh my god, it's totally Jollibee out there. I knew Financial District banh mi sounded too good to be true. What kind of market research determined that Wall Street was the spot to launch a Vietnamese street food effort? I left my office a little past 1pm in search of my $5 fix and didn't sit back down until 2:15pm, all sensation numbed out of my hands. Good training for the bread lines to come.
I've been boohooing for exactly two years solid (just realized my two-year work anniversary is this week) about the lack of good food, especially anything that meets my preferred $5-and-under criteria, near my office. And when I say near I mean a three-block radius, someplace you can run to-and-from in under 15 minutes. Sure, I have Adrienne's and Sophie's but I can't eat pizza and cubanos on a regular basis.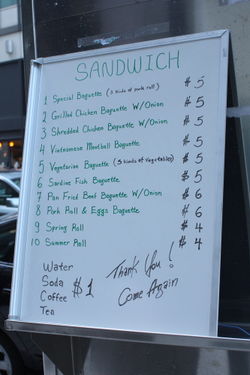 On some afternoons I've seriously sat at my desk dying for a banh mi. Menupages find-a-food search only confirms what I already know: no Vietnamese food down here. I have done Chinatown runs in the past but it does take a full hour. So, yes, I was excited about banh mi truck on Water and John streets.
Ok, so it's a ten-block walk, which isn't unreasonable but kind of brutal in this blustery 20-something degree windy weather. A little chill isn't enough to thwart me (though I should've thought twice considering I've had a cold for over a week and need to constantly suck Ricola to prevent coughing fits) I just made sure to bring a hat and gloves today. 
A line eight deep didn't seem so daunting at first. It's not until you settle in that you realize it's not moving, not one inch. I'm estimating it took about six minutes per order, which is an eternity in standing outside time. Maybe banh mi just aren't a suitable mobile food. A toaster oven can only heat so many baguettes so fast. I wait similar times at Ba Xuyen and the like but there's never anyone in front of me and I'm not on a lunch hour or exposed to the elements.
Fortunately, everyone seemed relatively good-natured (good things come to those who wait, duh)…until the line-jumper showed up. Holy shit. After about 40 minutes, I got served at the same time as the twosome behind me. Then began our food wait. So close. Out of nowhere a friend of theirs showed up and hopped to the front to put in an order with them (I found the whole thing confusing because they had already ordered—it might have been different if he'd joined them before they got served). You'd better believe he was called out (I would've been more pissed if I wasn't seconds from my sandwich) and even if the people shouting that they'd been there 60 minutes wasn't technically accurate (like I said, 40 for me and I'd been there longer) it didn't help matters for the cutter to retort that he didn't believe them.
I don't know how things were resolved because the second that plastic bag hit my fingers, frozen to the point of uselessness, I dashed as fast as my numb appendages could carry me. Ok, I snapped a photo first (with the line-jumper guiltily skedaddling out of view).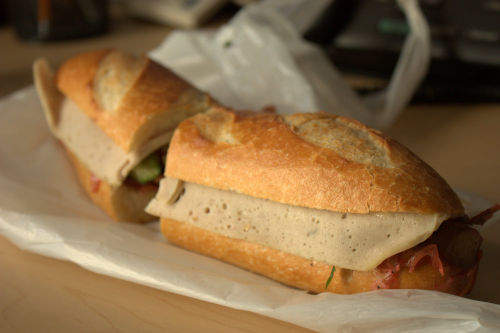 But the food, that's the important thing. I had the #1 described as three types of pork roll, and indeed there were various pale and red-tinged, chewy slices of lunch meat smoothed out by the swath of creamy pate. Spicier than usual, there was a generous amount of black pepper, sliced jalapenos and sriracha (also a drizzling of Maggi). I didn't detect any mayonnaise, which didn't bother me. I will say that there was an overall dryness to the sandwich that I think had nothing to do with the absence of white condiment. It might've had something to do with the bread.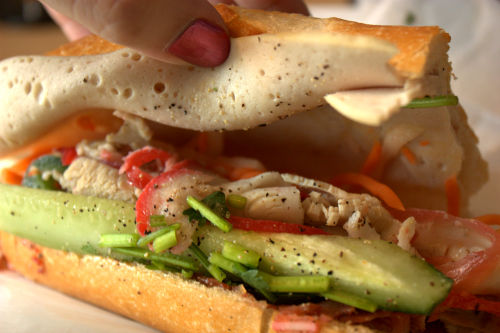 Trying to avoid fried food, I asked for summer rolls. They were out, but something about waiting so long compelled me to order more than a mere sandwich. Yes to the spring rolls. I got the very last waxed bag of four ($4). Eh, they're not so good, more stale crunchy than crispy. They weren't fried on demand (thank god, or I'd still be there) so this wasn't surprising. One was enough for me (though my inability to waste food will ensure that I try and revive them later).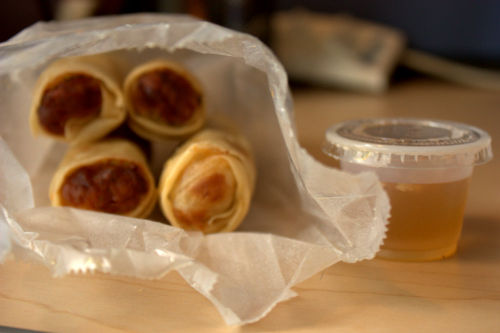 The banh mi was pretty good, better than I'd expected from the circumstances but I'd only return on an off hour and maybe once the weather warms up at least above freezing (and my head cold finally passes–I can't even hear out of my ears anymore). It does bring cheer into my life knowing that this cart exists, though. (2/20/09)
Banh Mi Cart * SW corner of John and Water streets, New York, NY