Marco Polo Ristorante

It's hard to believe that I've lived in Carroll Gardens for five years. That's a mighty long time for a neighborhood you're not in love with. One of the first places I noticed after settling in was Marco Polo. Brick-clad, with white stone accents and a sunroom on the side, the corner building seemed styled from an undecipherable era. They also touted valet parking, an unusual touch around these parts. The multi-story restaurant never seemed full yet appeared to be thriving. It scared me a bit, not so much for the mobby vibes emanating (lest you dub me a baseless stereotyper—there was truth in this presumption) but because rampant red saucing makes me want to sob and it would be hard to even justify the novelty factor with entrees in the $20s. I clearly wasn't their target market.
For at least the past six months while attempting shoulder presses on the second floor of the gym directly across the street, I've been regaled with a banner strewn across their façade declaring a 25th anniversary special for 25 days. I don't think it's ever coming down. Maybe they're like me where five years passes like nothing. Twenty-five days could easily turn into 365.
But I have been intrigued, I'll admit. I'm also curious about the wine bar currently under construction two storefronts down, next to Marco Polo To Go, that still bears Joe's Restaurant signage in the Marco Polo To Go space.  Not that Carroll Gardens is suffering from a lack of small plates.
I wasn't doing anything remarkable on Easter, no plans to speak of until around 5pm when it was decided that something festive needed to be done for dinner. James suggested Chestnut. Wildly, Marco Polo popped out of my mouth. I didn't need to say that twice since I've been putting the kibosh on his urge to try the place for practically half a decade. He was instantly on the phone making reservations against my better judgment (seriously, it wasn't going to be packed and certainly not at 8pm on a Sunday).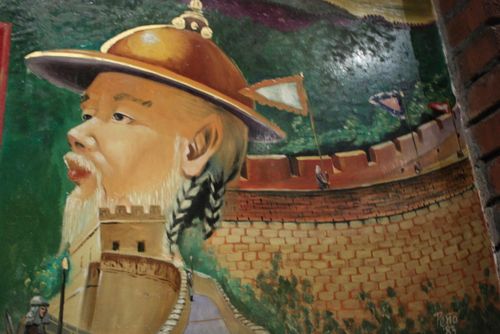 There were a few other tables finishing up their $34.95 prix fixes as we arrived. I went in cautiously, not expecting anything remarkable. And no, the food isn't memorable but I would recommend going once just for the experience. Um, and for the murals (detail above). Isn't supporting a local business supposed to be better than patronizing an Olive Garden (not that such a chain would stand a chance in South Brooklyn)?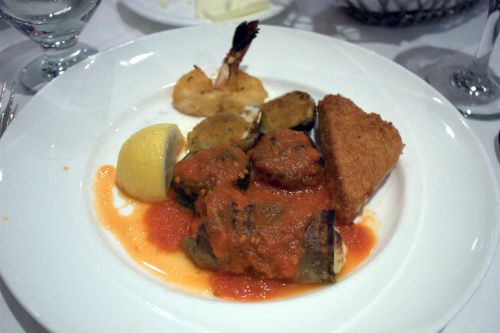 First course of warm antipasto was certainly a bready, saucy hodgepodge. There appeared to be shrimp, baked clams, stuffed mushrooms, eggplant rollatini and a fat triangle of mozzarella that looked like French toast. Ok, I do love fried cheese.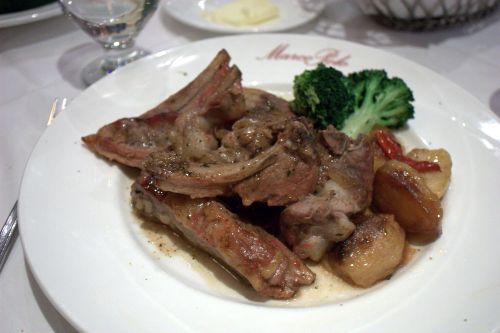 The lamb chops (at least I thought those were chops but it looks like ribs and who knows what else on that plate) were generously portioned and I was glad that the potatoes had a little color around the edges instead of simply being boiled. The meat might've been too fatty for some tastes, but I wasn't put off.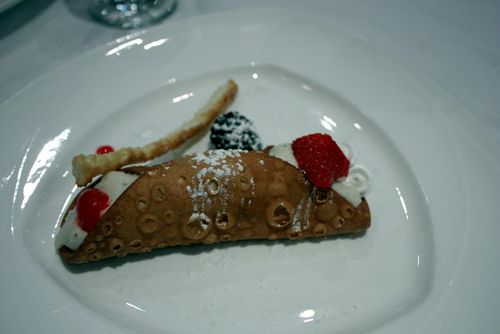 For dessert I chose a cannoli, a perfectly nice specimen. Despite rarely eating them, desserts based on sweetened ricotta never let me down.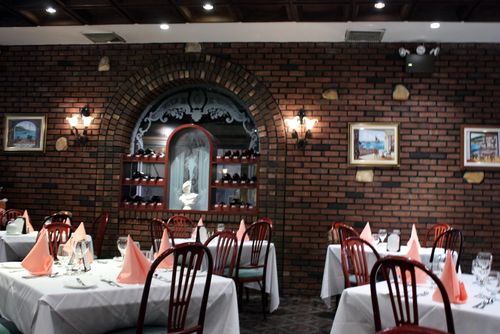 There are what feels like millions (maybe only really a handful) of Italian-American restaurants cut from a similar red-and-white checked tablecloth (ok, these were white) still thriving in the neighborhood. Maybe I'll get around to trying a few of them eventually, too.
Marco Polo Ristorante * 345 Court St., Brooklyn, NY