Char No. 4

1/2 The tickly smell of smoke did hit me when I entered Char No. 4 but it wasn't an assault. I'm afraid that I've become desensitized to the strong fragrance due to periodic household experiments with a mini smoker. Venting the fumes towards an open door helps but keeping the apartment from smelling like a piece of jerky is nearly impossible.
I chose to use my experience with smoked food as fodder for my Spanish class response to "What did you do last week?" a question I stumble through every Thursday. But it only caused my teacher to ask if it was normal to keep a smoker in one's apartment and if that didn't bother the neighbors (he lives directly above Caputo's and says that smoke wafts into his apartment–what do they smoke in house, I wonder?). Well, as long as those neighbors continue to use the tiny foyer, a.k.a. the ten feet in front of my door as a stroller parking lot, I don't care if the entire building reeks like a giant campfire. But I couldn't say this in Spanish because I didn't know the word for stroller or foyer and besides, it's tough to convey humor coupled with disdain in my painfully slow, dimwitted second language style.
So, post-11pm is a good bet if you insist on weekend dining since that's when the ratio of bar drinkers to back room sit-downers begins to shift. The restaurant may look mobbed from the street but it's just whisky sippers crowding the space in the front.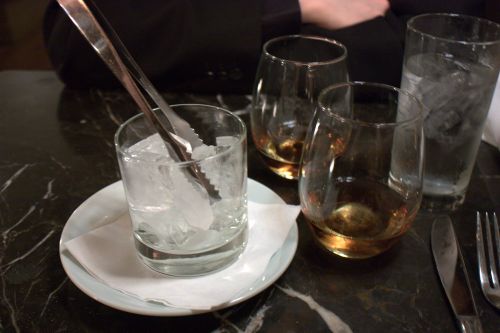 With 100+ choices ranging from one ounce of Fighting Cock for $3 to a $100 portion of Old Grommes 121 Proof, there's something at all price points (none of that $120 per glass MacCutcheon Scotch). If I were feeling more flush I would experiment a bit more. As it stood, I tried a two-ounce pour of Woodford Reserve. Not so adventurous.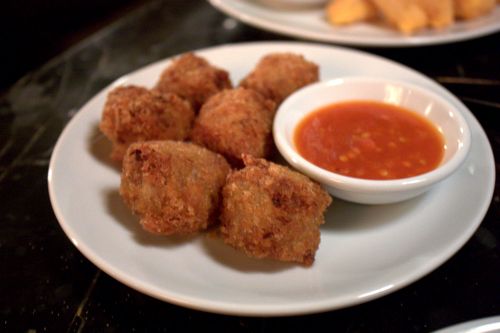 I was most interested in the fried pork nuggets and they weren't disappointing. The soft centers contrasted with the crispy surface of the cubes like a meaty petit four. What they refer to as Char No. 4 hot sauce seemed like Sriracha to me, not that I mind since it's my condiment of choice for nearly all fried food. Something about the heat cuts the fattiness.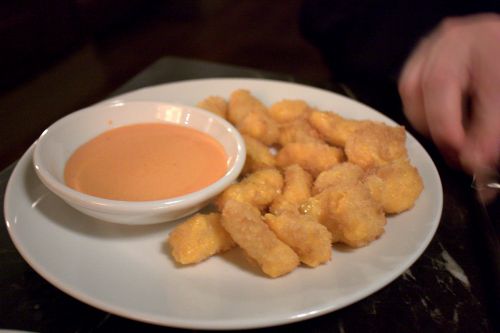 While I expected greatness from the above pork, I actually preferred the fried cheddar cheese curds (once the fried food floodgates have opened there's no stopping). The firm chewiness worked even better with the crusty exterior. I assumed the creamy (bucking that hot with fatty trend) lightly spiced dipping sauce was remoulade but it's described as pimento sauce. That's a lot of orange on one plate.
The city is rife with pulled pork sandwiches, so many that I'm not always sure I should bother. They can't all be special. I do think this one was above average because of the whole package. The meat was moist, more chunky than shredded, and mixed with a barbecue sauce that tasted vaguely creamy and mustardy. The bun was toasted, which is very important to me, and the pickled onions and peppers added just enough heat and tartness. The baked beans weren't bad either.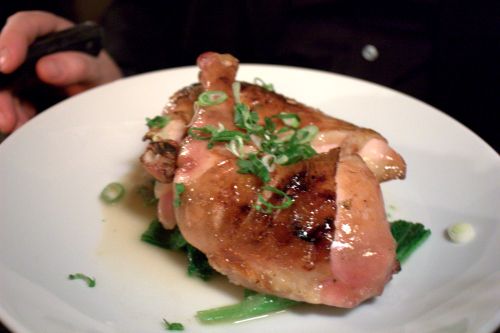 I shied away from the proper entrees because after a few ounces of whiskey priced in the double digits, the bill adds up. James wanted to try the smoked chicken, though, since it's a meat we haven't attempted in our smoker yet. Wanting to learn more about the preparation, he piped up, "I had a question?" to which our waitress responded a bit defensively, "The pink?" Clearly she was tired of explaining the poultry's doneness despite the deceptively rosy color. Uh no, just the details on how they keep their chicken juicy and not overly smoked. The answer, as it turned out, was using a pickle brine, and smoking at 225 for one hour. We'll test it out.
Char No. 4 * 196 Smith St., Brooklyn, NY