The Woodburning Pit

  This was the second time in less than a week that I had the lights turned off on me while still eating. Maybe someone's trying to give me exposure therapy. They say you can overcome phobias by being repeatedly exposed to the scary-to-you experience. I say that's crap but I'd rather tackle my aversion to talking to strangers on the phone or walking up-and-down staircases without using the handrail before dealing with my fear of being the last diner in a restaurant.
It was partly my own fault because I thought the newish Bay Ridge churrasquiera closed at 11pm not an hour earlier. Then again, I would've been done by 10:07 instead of 10:37 if it hadn't taken 30 minutes to get half a rotisserie chicken. I'm still not sure what the deal was and whether or not running out of food on a Friday night is typical or an aberration. I noticed people waiting for takeout for long stretches of time and another couple who sat down left after being informed they were out of both chicken and ribs.
Portuguese food is scarce in Brooklyn and The Woodburning Pit serves a subset of the cuisine, focusing on grilled meat. They did have caldo verde, but this isn't a formal place offering sit down dishes made with staples such as bacalhau, clams or sardines. The premise is not dissimilar to a Peruvian pollo a la brasa takeout joint or jerk chicken storefront. The main difference is that this eatery is aiming for a bit more ambiance, providing a handful of wooden tables for dining in, Portuguese beer (Super Bock to name one) and imported metal sconces (at least that's what the Made in Portugal sticker visible from where I was sitting implied) to liven up the walls. Oh, and that normally you have proteins at the ready, waiting to be chopped up and crammed into aluminum containers.
We initially ordered a rib and chicken combo to share then freaked out that it might not be enough food. I've been trying to reign in my gluttony, though trying to be dainty is less attractive when faced with a $3 sharing charge. Obviously that wouldn't apply to to-go orders, which only reinforced my initial impression that take away is probably preferable here.
To supplement the unknown quantity of food coming our way, we ordered garlic shrimp. These were similar to Spanish gambas but had a touch of vinegar, as did much of the food. I think it comes from a Tabasco-like sauce if not actual Tabasco. I'm glad we did have an appetizer because we were informed our chicken would be another 15 minutes. I was not in a rush so this wasn't a big deal.
The service, by the way, was pleasant in a mom-and-pop, part of the community, knows the locals kind of way you see in parts of Brooklyn you'd expect like Bay Ridge and still thriving in enclaves like Carroll Gardens despite its increasing new-school nature. They just seemed to have misjudged supply and demand. I'll make allowances for businesses getting up to speed.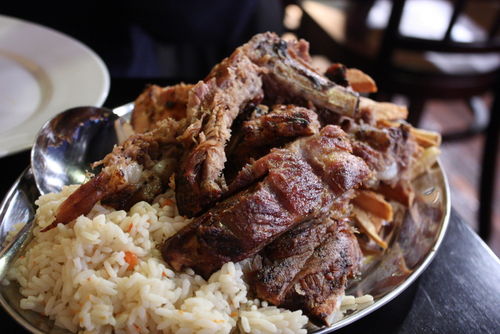 I do think that half a chicken and four ribs supplemented by some of the longest fries I've ever seen and a slew of rice was plenty for two. The meat was a little gnarled, at first glance it was hard to tell the pork from the chicken in the pile of burnished brownness, but nothing was dried out. The skin could've been crispier, but everything was moist and had a peppery zing.
This would've been a perfectly acceptable mid-week meal but I require more oomph from a Friday or Saturday night dinner. Is that weird? The Woodburning Pit would be suitable for takeout or delivery if you happen to live near the Bay Ridge/Sunset Park border.
The Woodburning Pit * 6715 Fifth Ave., Brooklyn, NY