Sowing My Oats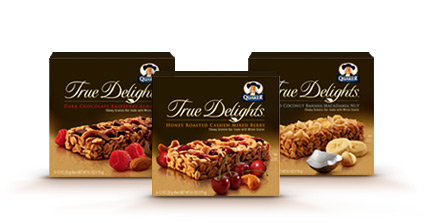 I'm hesitant to review (if that's what you can call this) freebies because, you know, I just can't be bought (not to mention how mom blogger it feels). But I eat a granola bar every couple days anyway so it was no big thing to try three varieties of the new Quaker True Delights line. Quaker must be on a promotional rampage; Wednesday they had Top Chef contestants oat encrusting everything during the quickfire challenge. No one needs to be eating eggplant spackled with dry oatmeal.
Granola bars are a strange foodstuff. I wouldn't say that they're good for you and it's not as if they do shit in the way of filling you up; they're just a less egregious snack than a candy bar.
In grade school I was jazzed when chewy chocolate chip was invented. And don't get me started on Dipps or Kudos (that is how I added the previously unknown word to my vocabulary, though). It's hard to believe that soft, granola bars studded with M&Ms, Oreos and drizzled with chocolate did not exist before the '80s. It felt like you were getting away with something in comparison those dusty, dense Nature Valley bars that were usually packed in my lunch. To this day I still prefer Kashi TLC (tasty little chewies) over the heartier crunchy Kashi Pumpkin Spice Flax that James occasionally picks up from Target not knowing any better.
Coconut Banana Macadamia Nut: Banana was the strongest flavor and I wasn't sure if it was artificial or real until I noticed the embedded banana chips. Then there was a mildly salty, baking soda-y effect followed by coconut crunch. Whole macadamias were nice.
Honey Roasted Cashew Mixed Berry: Sweetest of the three, must be that honey, and heavy on tart berry flavor. The cashews added richness. This was my favorite by far. The odd good thing is that if you're a poor sap who's resigned to doing Weight Watchers, this bar only has two points where the others have three.
Dark Chocolate Raspberry Almond: More subtle than the other two. I didn't encounter any whole berries like in the promotional photo, just speckles. And despite the petite chocolate chunks, this bar felt more Kashi-style healthy than the rest.
So, I would eat a Honey Roasted Cashew Mixed Berry bar if someone handed me one and I was in need of a snack, but as long as corn syrup is the second ingredient I'll stick to my Kashis. The Corn Refiners Association won't sway me on their "sweet surprise" no matter how many commercials they produce.