Buttermilk Channel

Sometimes things fall into place; often they don't. New Year's Eve, much like Fourth of July and Halloween, always end up lackluster because I can't be bothered to make plans. That why for the dawn of 2008, I made a concerted effort to get out of town and randomly rang in the new year in Toronto. This year I was still recuperating from vacation hangover and wasn't feeling motivated to come up with anything monumental for December 31.
It was too icy and cold to take chances on Williamsburg where vague parties of friends of friends are always an option and where I frequently end up drunk and eventually angry over the inescapable '80s music (Nu Shooz will always set me off guaranteed). So I kept it local, trying to avoid ridiculous prix fixes (even freakin' Marco Polo was throwing a $125 per person fete) and attempting to find a free table anywhere without reservations.
Chestnut was hopelessly full. I wasn't even going to bother with newish Smith Street darlings like Char No. 4. I had put Buttermilk Channel in that same camp, but decided to check anyway since it's only three blocks from my apartment. It was hopping at 9:45pm, every space occupied, and then miraculously, two high chairs were open at the end of the bar. Perfect. Maybe that bodes well for 2009?
I didn't bring the new camera because I know myself too well and feared an inebriated dropping, and sure enough, my purse hit the ground at the end of dinner despite the nice bag hooks beneath the bar. A cocktail that blended rye with vanilla liqueur and bitters, whose name I forget (it contained a woman's name) got me started on the path to a more festive mood. I stuck with wine the rest of the evening, misguidedly believing that I'd suffer fewer ill effects than with the harder stuff.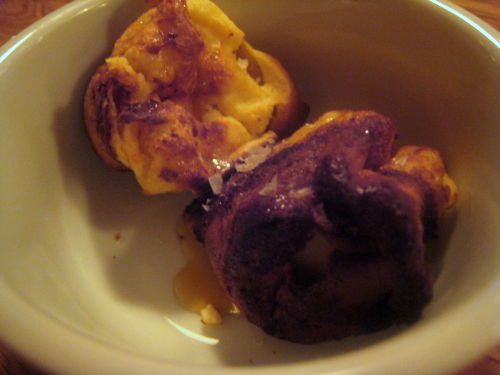 Popovers with honey and large flakes of sea salt. They don't look like much, but sweet, salty and starchy rarely disappoints.
I normally steer clear of entrée salads, they always seem too chicken Caesar, chain restaurant-y. But I've been making exceptions more and more (most recently with the luxurious lobster salad at Irving Mill). Buttermilk Channel's rendition with tender lamb and long leaves of romaine was substantial and beefed up with cauliflower, olive bread croutons, a soft-yolked egg and fried capers. I might've preferred the cruciferous vegetable to be fried instead of the capers since the hot oil treatment barely registered on such a tiny subject.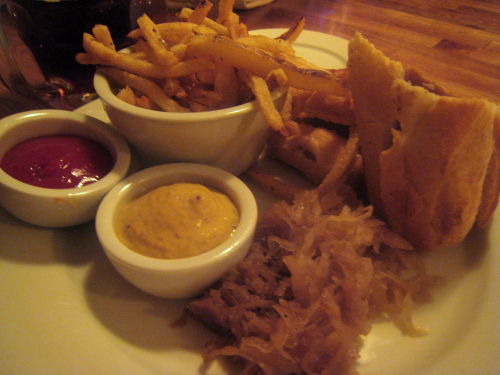 Name-checked Schaller & Weber bratwurst on a roll. I only tried the fries, which were the way I like them: skinny and crisp.
I'll definitely go back for a more complete meal. The service was gracious and professional despite the holiday frenzy and the food (what little we sampled) was high caliber for this unloved strip of lower Court Street (eh, for upper Court, too). I'll still patronize chimichanga-slinging Mezcal's on the same block, though.
Buttermilk Channel * 524 Court St., Brooklyn, NY