Thanks, But No Thanks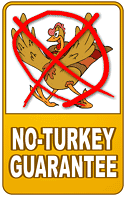 Yes, I suppose it's one month to Thanksgiving. Time to make reservations if that's your type of thing or start scouring the magazines. My holiday issues have been pouring in. And as much as I get a soothing sense of calm from planning Thanksgiving meals, I'm kind of relieved that I'll be out of the country November 27.
Potatoes, yams, pumpkin pies, pecan pies, stuffing…it's all starch and sugar (and turkey is flat out dull), things I try to avoid while also trying to not talk about it too much because frankly, who cares what you're trying not to eat.
I'll board a plane at early the 27th and won't touch ground until it's Friday night in Bangkok. Too soon for personal homesickness, but Americans (I rarely encounter Americans in S.E. Asia—mostly British, Australians and Germans) in the mood for "traditional American dishes such as roasted whole beef tenderloin sliced with jalapeños, smoked Texas BBQ pork ribs, Louisiana baked darn salmon and California BBQ Chicken with a glass of California wine," will find that most of the big hotels put on Thanksgiving meals like this example from the Novotel.
Hong Kong, where I'll be a week later, takes quite a different approach to the holiday. Would you fancy a HK$880 ($113 USD) menu serving Kumamoto oysters, warm horseradish and tomato broth, fresh crayfish and okra soup, prosciutto, roasted pumpkin and sage salad, slow-roasted turkey, foie gras and chestnut stuffing with shaved Brussels sprouts, cherry-yuzu soda and pecan and dark chocolate tart, vanilla bean ice cream and bourbon caramel? At least that's what they were serving last year at Felix in the Peninsula Hotel.