Sweet Spicy Szechuan Chips
Wah, yesterday I heard "official end of summer" used again on the radio. Do they not mean unofficial? If it's fall why am I wasting money on air conditioning still?
Fine, the only concession I've made to this rumored autumn that we are now experiencing was buying a Cover Girl eyeshadow trio in Halloweeny Dazzling Metallics. I did use a Target gift certificate so technically it wasn't my money supporting this seasonal mischaracterization.
On the new totally unnecessary items front, I found a few goodies at Shop Rite in Linden, NJ. The store is nothing special, it just happens to be in the same complex as the Target and Old Navy I frequent. It's not quite the real guard-down suburbs because you have to pay a quarter to use the carts airport-style. Yet, I'm kind of obsessed with this place.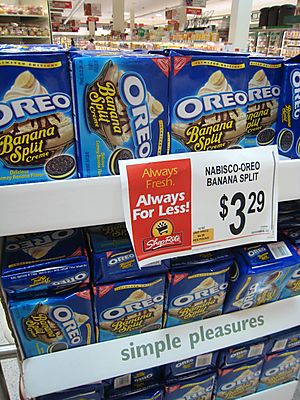 Banana Oreos are nearly as offbeat as those Japanese melon Kit Kats you keep hearing about (or maybe I just keep reading about them). No, I didn't buy or sample these banana split cookies but I'm happy knowing that they exist.
Chips and soda are two product categories that I've never been into from an eating perspective but have always appreciated from a flavor standpoint. They're not afraid of experimenting.
Spicy Sweet Chili Doritos sounded irresistibly Thai. Nah, I don't even care much for Doritos but I couldn't leave these on the shelf. Apparently, Stephen Colbert and PETA approve of these. Who knew that all other Doritos involved cow "raping?" Whatever it takes to bring me cheese, I say.
Taste verdict: Yum, maybe I've been missing out all these years I thought I didn't like chips. These are strangely compelling, and yes, hot and sweet. The odd part is the corn taste in the background. These cheese-free triangles are definitely less classy than the Pringles Select below but far tastier.
I turned around and on the opposite shelf was a new jazzy line of Pringles in bags instead of cans. Select, of course. Szechuan barbecue? You know there's not going to be a smidgen of actual Sichuan peppercorn on these, it's just fancy code for spicy. What interested me in addition to this new Asian bent to the snack aisle was that these aren't even potato chips. They're rice crackers. Strangely, both bags of chips/crisps are purple. Is that the signifier for exotic?
Taste verdict: Not spicy or barbecuey. The predominate flavor is salt and the texture is kind of chalky but not unpleasant. They're smaller than I expected too. You could easily eat a whole serving (28 crisps—hey, that's not bad) without even realizing it. I think these would be a big seller if they were sold at Trader Joe's under their house label but as Pringles I'm not sure how they'll do.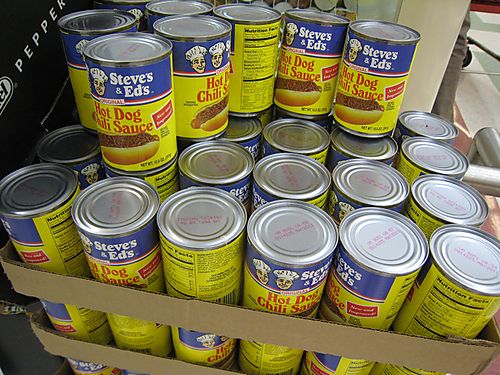 Once again, I'm more swayed by the packaging than the product. I don't eat hot dogs or chili (damn, I'm sounding picky) but Ed's and Steve's sauce is adorable.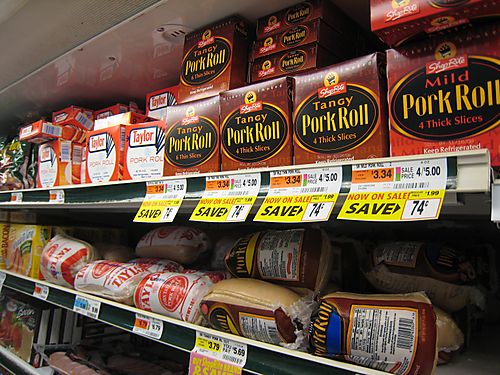 That's a lot of pork roll varieties. In the same refrigerated section at shin level was a a box of ready made pancakes. Just heat and serve. Frozen waffles seem totally normal to me but refrigerated pancakes are freakish.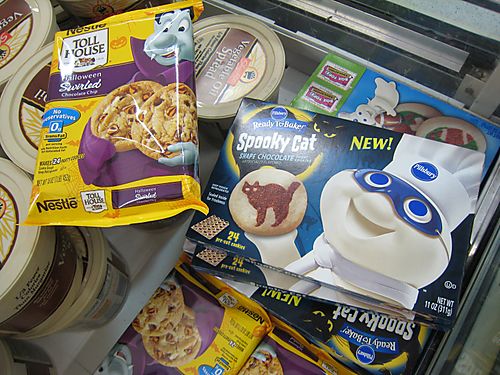 Ok, you're killing me with this Halloween shit when it's still goddamn SUMMER! Those cat cookies are pretty cute, though.