Eton

3/4 I'll temporarily stop boohooing about the state of Asian food in Carroll Gardens. Eton is a small step for the neighborhood, small in stature and in menu, and only works if you're craving Chinese dumplings.
No, you won't find any five-for-a-dollar (isn't it four in a few spots now?) deals, as Sackett Street is no place for such bargains, but $3.50 isn't exactly extortion. And anyone who's had their fill of the standard pork and scallion will appreciate the variety served here.
I tried all three staples: pork, beef and cabbage, chicken and mushroom and vegetarian. I really didn't notice the vegetables in either meaty dumpling. The fillings are substantial, dense and almost meatbally, with very little extra space left for the blobs to float around inside the dough, which is a good thing. You can choose from a variety of sauces in little plastic to-go containers. I would recommend both sriracha and soy sauce drizzled on these two dumplings.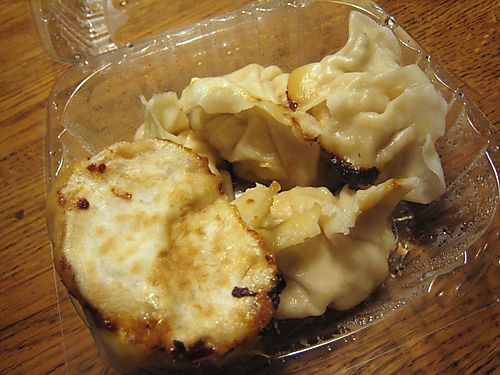 The vegetarian is a little odd though not un-tasty, using celery, tiny tofu squares and lentils, I think, but you must make concessions for local tastes. I heard that initially there were complaints before the vegetable dumpling became purely vegetarian. These matched well with the ginger-soy sauce on offer.
Shrimp dumplings were the special on my few visits and they might've been my favorite, at least interspersed with a few pork and beefs because those can bog you down. I was expecting a mousse-like puree, but the seafood is chopped roughly and tossed with edamame beans, which provides more texture to chew on. I would pair these with chile oil.
Dumplings are a fine enough Chinese snack (though I'll always have a soft spot for the greasy, cardboardy crab rangoon from Wing Hua—or is it Ting Hua? I always forget which is the one on Court Street) but what I'm really looking forward to are the noodle soups that will supposedly be on the menu in October. I love a good Asian noodle soup so I'm hoping that what ends up being served isn't the equivalent of the sad black-charred pizzas coming out of not-so-far-away South Brooklyn Pizza. All I was told is that they will be Asian-ish, not totally traditional, and that short ribs will probably play a role. 
Yes, so Eton currently has two menu items. Hawaiian-style shaved ice has equal billing with the dumplings but I don't eat things like that so I can't speak to the snocone-esque treats. I'm really not supposed to be eating sugar (yes, they have four sugar-free syrups—I just don't like fruity icy things, except for maybe halo halo and that's just because it looks insane) and when I do I save it for something over the top like the hot fudge sundae that almost put me into a genuine coma at the Jersey Shore last weekend. Sweetened ice just isn't enough to sway me. I do like that the toppings range from mochi to marshmallow fluff, though.
Eton * 205 Sackett St., Brooklyn, NY