Bar Q

Another short-lived venture. (2/09)
I've yet to be swept up by the bbq mania that's taken hold in NYC over the past few years. That could be why news of Bar Q's opening didn't initially motivate me. I'm not unfamiliar with Anita Lo's refined Asian cooking and am aware that she wouldn't be mesquite smoking brisket and slathering KC Masterpiece with abandon, but the words Bar and Q just dissuaded me.
Luckily, all it takes is a friend suggesting a food-related outing and I'm game. Sherri, my Momofuku Ko companion, tends to be my partner in dinner splurging. Small and pricey isn't an easy sell for everyone (but then, I'm someone who balks at spending more than $30 on an item of clothing).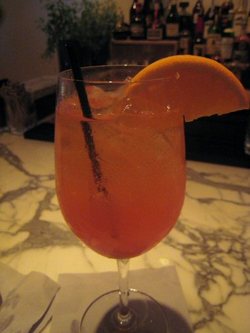 The cacophonous white-on-white space was full when I arrived at 8:30pm for a 9pm reservation. I was banking on a table opening up sooner and one did shortly after ordering a Filipino Spritz at the bar. This was sort of a joke to myself (I was out trying to kill time because James's mom was in town for some Hispanic conference and spending the night at our apartment. The woman is insane beyond words, not in a funny way, and totally baffling in that she looks completely white, but was born and raised Filipina yet has weird disdain for the culture and claims to be Spanish, which appears to be her first language. So, James has this bias against Filipino things because of her influence, which just makes me like them more. I'd go to Manila in a second, he even has an office there, but it's just not happening) but the prosecco, calimansi (which I falsely predicted would be big in 2004. Elderflower is hands down the cocktail ingredient of 2008, and yes, it was on the menu), aperol weren't sugary and cloying, just slightly sweet and a touch bitter.
We ignored the raw bar menu (is the fish on Monday taboo still relevant?) mostly because everything cooked sounded so appealing. Ultimately, we split two appetizers and two entrees. Words like stuffed, fritters, crispy and tea smoked are magic to me. This is my favorite type of restaurant food; super concentrated flavors thanks to savory fish sauce, pickles, Chinese sausage and lots of pork. But portions are sparing enough that you don't feel bogged down or overly monstrous. I guess Fatty Crab and Ssam Bar are cut from the same cloth, but there's something so personality driven and over hyped about those two that I can't bring myself to relent.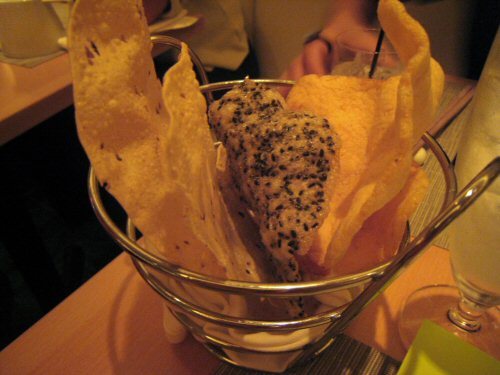 I hate breadbasket haters, it's so Atkins 2004 but uh, I'm not supposed to be eating bread (I interpret this self-imposed dietary restriction semi-loosely, especially when it comes to things like pork buns) so marginally less starchy crackers were a boon for me. It's not like I'm saying shrimp chips are healthy, but psychologically it deluded me since it wasn't a hunk of French bread. I can take or leave pappadums, though.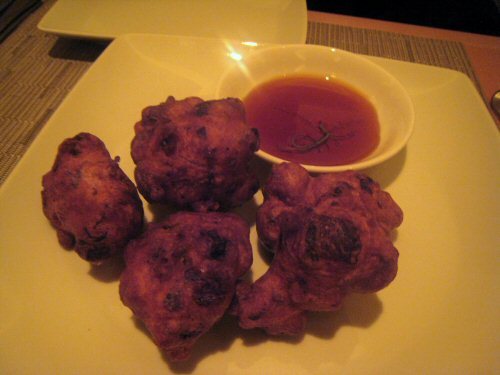 unagi scallion fritters with a sweet soy dipping sauce. The problem with fritters is that sometimes the batter just clouds the ingredients. The eel was a bit subtle for me and got a little lost in the puff.

spit-roasted pork belly with kimchee, takuan and steamed buns. The pork buns more than made up for the fried nothings. It's not soft unctuous pork belly but crackly like lechon (with the Filipino again) or chicharrones. Tartness always compliments fat, so spicy vingared kimchee and daikon added appropriate fresh crunch. I don't know what the green sauce was.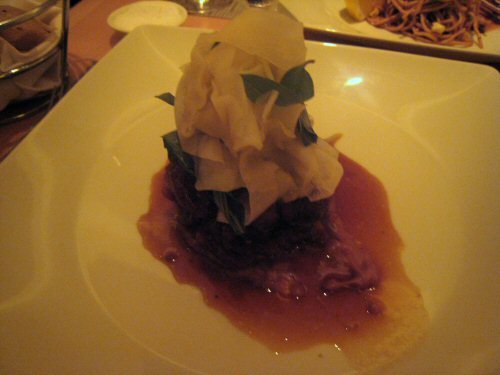 stuffed spareribs with lemongrass bbq, peanut and thai basil. Tender boneless ribs were hiding out under a tuft of what I want to say was shaved daikon, and were stuffed with a blend of citrus from lemongrass, something funky either fish sauce or shrimp paste with a touch of peanut sweetness for balance. The combination was Thai-ish but not hot. 

tea-smoked long island duck breast with chili and lemon. Chile (I can't spell it chili) and lemon doesn't fully explain the components, especially since sesame noodles are almost equally prominent as the medium-rare duck. I know some people lament surprises on the plate, but who is put off by noodles? I wasn't, though I would say this was one of the more preciously sized dishes.

warm walnut soup with malted rice crispies. I only had a small bite of the dessert but it tasted like earth tones, kind of cinnamonny and graham cracker-ish. I'm not sure how fond Americans are of dessert soups, but at least there weren't any Asian riffs on molten cakes.
Bar Q * 308 Bleecker St., New York, NY