Huckleberry Bar

After years on hiatus, the joint birthday celebration was re-established. James the boyfriend and Jane the friend are both March 22ers (so was my sister's ex-husband, which has nothing to do with anything). Since the date fell on a Saturday this year, there was no shoving it under the rug. Newish Huckleberry Bar seemed appropriately classy and we early-birded it at 5pm, mostly to take over the seating in the back before prime time but also out of senior citizen spirit.
For obvious reasons, birthdays have a way of bringing out aging insecurities and fixations. I always thought things like lying about your age and plastic surgery were bougie crutches. But I'm seeing the folly of youth, you can't say what will happen until it does (I'm seriously down on medical procedures, though).
Jessica mentioned setting her age to 31 on Nerve, hardly young enough to raise suspicion. I totally understand how there's a psychological dating threshold with men; once you hit 34 you become repellent no matter how great you look. Then James, who's never shown any concern about these girly matters, agreed that shaving off five years sounded wise. From now on he's claming to be 33. I haven't decided if I'll feign 31 come July.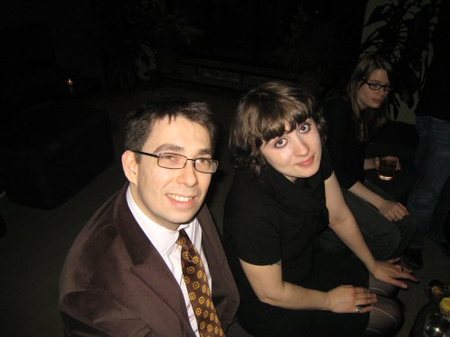 Guests of honor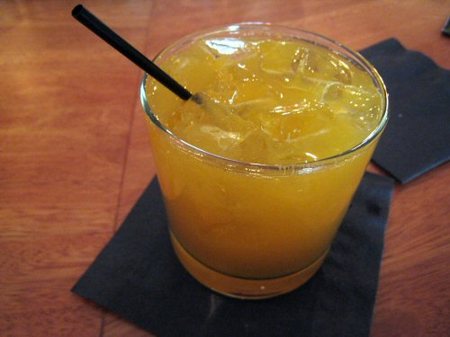 Specialty cocktails were the first order of business (the second and third was two-for-one happy hour red wine. I may be old but I'm still not at a point in life where I'm willy-nilly with the $10+ beverages). I was sold on the Montresor containing Maker's Mark, Lustau Amontillado Sherry and a splash of orange juice. Does that make it kind of Spanish? The emphasis was on the sherry, very forward and kind of nutty.
Not my drinks. Article 57 (citrus infused vodka, ginger juice and Q Tonic—I had to look that one up, it's one of those fancy tonic waters that seemed to storm the scene last year) and the Tina Modotti (Herradura silver tequila, Del Maguey mezcal, spiced pear syrup and chili salt).
Then came the food. We ordered a little bit of everything to share but about fifteen guests had amassed by this point so I snapped quickly and sampled sparingly. I think I had a taste of everything except the sandwiches because individuals ordered those and I'm off bread at the moment.
Boiled peanuts were a gratis snack. I guess the mushiness in an acquired taste. I'm not opposed to them because I generally hate the dull dryness of peanuts.

Gin-pickled beet salad with Stilton and pecans
I could've eaten the whole cheese plate myself but that wouldn't be polite. I'm positive that Humboldt Fog is in the center and that the upper left is Shropshire Blue. I'm not entirely sure which ones are Petit Frere, La Serena and Beemster Classic, but I should find out because I loved the semi-soft one in the bottom left corner. I want to say that it was nutty but I already used that word once in this post. It really was nutty, though, like a creamier gruyere.
I didn't try all of these so I can't say much about the charcuterie except for what's on display: Baby Jesus (I did not previously know that was a Lyonnais sausage but I'd just seen it a few hours earlier at Stinky Brklyn so it stuck in my head), Bresaola, prosciutto Biellese, pancetta and cacciatorini.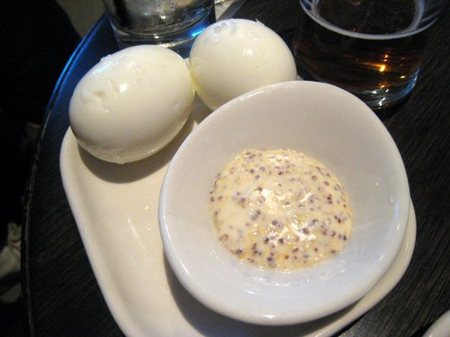 I would never order hardboiled eggs but I must admit they were incredibly tasty drinking food. I preferred the mayonnaise spiked with grainy mustard. We also had two with hot sauce and another duo with a mystery pickle that was kind of like sauerkraut.

Candied pecans, simple and sweet
I consciously avoid people photos (posting, not so much taking them) because it's too MySpacey self-indulgent (as if blogging about yourself isn't) for my taste. I don't have anything to prove and fun still happens even if it isn't documented in pictures. But I must include this shot because I accidentally captured the interloper in the corner.

Ok, and I'll include a picture of myself because I rarely do.
This bald, turtlenecked gentleman set up shop at the couches across from us, pulled out a notebook and periodically stared without expression for what felt like hours. I was convinced he was bitter, seething and plotting our demises (or maybe I was projecting because I hate being out and about when an obnoxious party takes over, but he chose to sit nearby in a half-empty room). Eventually, he got squeezed out and no one got hurt.
We eventually dispersed, ourselves. The problem with early-birding is that if you don't turn in early enough, it translates into a surprisingly long night of drinking. I certainly felt elderly on Easter Sunday. Even though I called it quits by 2am (and ended up at a Kennedy Fried Chicken) it was still nine hours of non-stop imbibing. The Montresor, a couple glasses of red wine, a few Manhattans, then onto gin and tonics at Bushwick Country Club a few doors down. Never mind the irony of the bar's name, it's not even in Bushwick.
But they do have cheap drinks and a photo booth. Despite what I just said about hating people photos, I do have a soft spot for these self-serve machines. In my intoxication, I became hell bent on celebrating rat-ness with my fellow born-in-1972s. But no matter how hard we tried, it was impossible to squeeze three heads prettily into the frame.
Huckleberry Bar * 588 Grand St., Brooklyn, NY