Gramercy Tavern

1/2  One of the things I was most struck by while my sister, Melissa, and her husband were visiting from England recently was how impressed they were with the quality of restaurant food. They kept marveling at how good everything was everywhere, and I mean everywhere.
I would never see the goodness in a breakfast at B Bar like they did, but then I probably wouldn't eat breakfast (or any other meal) at B Bar. Is that because I'm jaded or because British food is truly that bad?
They seemed to think that our standards are higher, that here even mediocre restaurants serve decent food (I'm sure we could've proven them wrong) and recounted rampant U.K. kitchen nightmares involving frozen food, microwaves and general staleness.
I thought England was on an upswing, but it's true that a lot of the trends seem focused on meat: nose to tail eating, raising your own livestock, butchering practically as hobby (they really seem to love killing animals on TV—I'm sure it'll be all the rage here in 2009). Perhaps reviving old traditions is having less impact on vegetarian fare.
So, I hadn't realized my houseguests would be so easily impressed, but I still sought out an appropriately high-end vegetarian-friendly restaurant for my sister's birthday. Per Se wasn't going to happen, and even with the favorable exchange rate I still think it would be a little rich for their blood (mine too, really, but I was keeping in mind that my sister is a recently unemployed social worker and her husband is a tree surgeon).  I considered Daniel and Bouley but I just didn't think they would be enjoyable.
Stuffiness wouldn't fly. My family is super casual–I'm fairly certain that my dad never owned a tie–but I wouldn't say they're yokels either. Beforehand, I described Gramercy Tavern to Melissa as, "the type of place you're supposed to take your parents…but not our parents."
Don't get me wrong. The Christmas before last I gave my mom and the stepdude a gift certificate to Park Kitchen, which didn't strike me as Olive Garden-y.  though I couldn't say if  that was their speed or not. Despite spending nearly the first quarter of my life in Portland, I'm no longer familiar with the dining scene, which has changed dramatically since I left in the late '90s.
My favorite way to experience a nice meal is to warm up with a few drinks first. Maybe I'll move on to an artisanal cocktail at the restaurant, then wine with dinner, in this case a bottle of 2005 Lucien Crochet Sancerre Le Chene, but I actually enjoy downing a few beers at a non-fancy venue earlier. I'm not talking about getting trashed, say, three pints over a two-hour period like we downed at No Idea. Maybe I'm a drunk because I rarely suffer ill effects, though the rest of the household seemed a bit rough around the edges the next day.
Gramercy Tavern was a complete success. Everyone was happy and that's rare. James and I were allowed our meat and seafood and the visitors had the vegetable tasting menu (it's notable that this version was already vegetarian, the one I saw in the fall contained bacon and lobster).
The service was genuinely impressive, never stuffy but eerily attentive. It's silly but I was most wowed when a new course came while Melissa was in the bathroom and a metal dome was employed. We were asked if wanted ours kept warm until she returned. Uh no, as if any of us are that considerate.
For the sake of space, I'm linking to photos of the vegetable courses. This is what was served:
Root Vegetable Terrine and Mustard Crème & Herb Salad
Carrot Soup with Spiced Cashews
Butternut Squash Risotto
Warm Salad of Winter Vegetables and Farro
Mushroom Ravioli with Wild Mushrooms and Aged Balsamic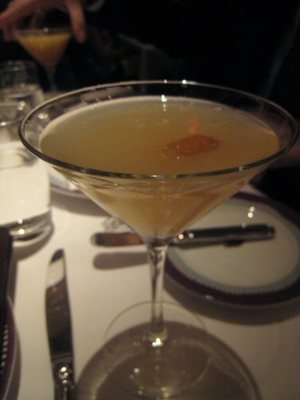 Though I rarely drink them anymore, whiskey sours used to be my cocktail. This is a pear sour using Belle de Brillet, a pear cognac and Clear Creek Williams Pear Brandy. Oh, and lemon juice, of course.
An amuse of beet and what I believe was duck lardo. Lardo sounds classier than fat when describing food, but no much when talking about a person. Hey lardo.
 
Snow Crab, Radish and Lemon Vinaigrette
The vivid colors are mesmerizing. The sweetness of the crab meat contrasted nicely with the tart lemony smudges of dressing. I don't recall ever eating sea beans before but through some sort of culinary osmosis I immediately recognized them.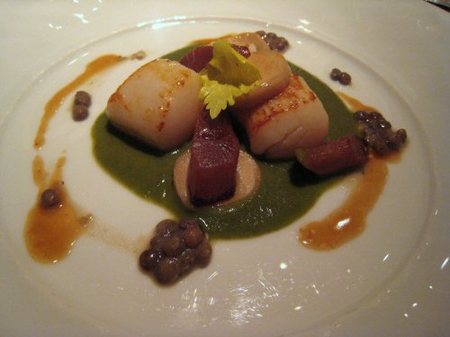 Nantucket Bay Scallops, Lentils, Pickled Mushrooms and Salsify
I'm still don't have a handle on salsify even though I've been served it more than a few times in recent history. The somewhat mushy texture was stiffened up by the pickling. I have no idea what stained it brown but I liked that it transformed into something Asian seeming that might be sold by the pound in a tub at the back of a store.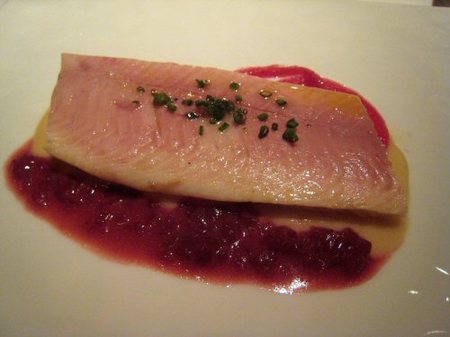 Smoked Trout, Sunchoke Purée and Pickled Cippolini Onions
Pickling again. The sweet and sour quality and crimson color made me think there were cranberries involved. Not so. In my mind I'm imagining a mustard flavor too—perhaps that was a component of the sunchoke puree.

Quail, Cinderella Squash and House-Cured Bacon
It was hard not to admire the world's tiniest wing (and poached egg). Mini poultry is tough to manage with fork and knife, though. I ended up using my hands.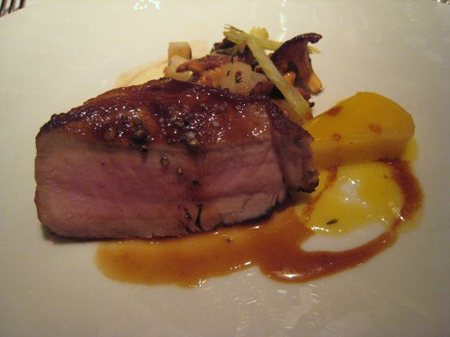 Rack of Veal, Wild Mushrooms, Asian Pears and Celery Root Purée
The portions were hardly enormous but I did start feeling full by this course (those three pints will catch up with you) and the richness of the meat kind of finished me. Any additional savories and I might've felt ill.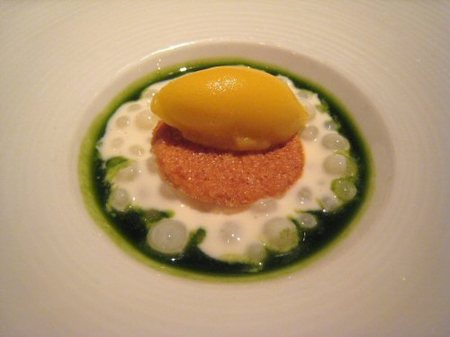 I almost forgot about this in-between course of mango sorbet, tapioca pearls and cilantro sauce. I guess you could say it was refreshing. 
Dessert was a choice of cheese plate (James's option), a chocolate mishmash (both UK visitors' pick) and an apple clafoutis, which I was swayed by. I love cheese but like I said, I couldn't take any more savory. Chocolate kills me after a serious meal. An avowed fruit-hater, it's usually the route I go for a sweet finish. It's naked fruit that makes me listless and this tart with cinnamon ice cream was embellished just enough to be exciting. 
A cranberry-orange muffin for the next morning.
Gramercy Tavern * 42 E. 20th St., New York, NY