Jose Tejas

I was under the impression that this nutty Tex-Mex Cajun restaurant along Route 1 was a rare independent venue. Maybe it didn't look glossy enough or maybe I was won over by the enormous blue and white sign visible from a distance that simply reads EAT. But I was wrong; it is a chain and one that more commonly goes by Border Café. Actually, I wasn't acquainted with Border Café either but now I know.
I can't figure out why the receipt I received says Iselin yet their website says both Iselin and Woodbridge. New Jersey is annoying like that, every mile practically puts you in a different township and makes my pull down menu look like I've been all over the state when really I travel in a close radius around Middlesex and Union counties.
Speaking of the neighborhood, not too long ago a friend started dating a guy who lives about ten minutes from Jose Tejas. This is a very exciting development because New Jersey chain dining has always been a solitary activity. I mean, another and myself are involved but it's not like we ever have company along (for good reason, certainly). Can you imagine anything sexier than a double date at Bonefish Grill? Unfortunately, I suspect a Valentine's reservation has already been made somewhere and not likely in the garden state.
It hasn't taken much for me to conclude that there just aren't enough giant chain restaurants to satisfy the tri-state population (and what's this I hear about the Cheesecake Factory being a freaking hotspot in Hartford, CT?). No matter where and when you go it's a madhouse. And the unusually cheap prices at Jose Tejas—my $8.97 enchiladas were one of the more expensive items—certainly contribute to the popularity. But I cannot allow human obstacles to get in the way of my chain discovery missions.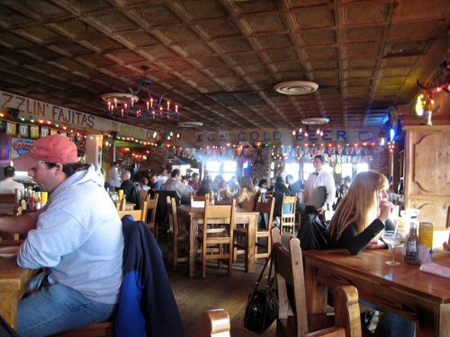 We went between lunch and dinner on a Saturday and were quoted a 35-minute wait. Normally, I would've left but trying to get on the correct side of the highway and then finding parking had already wasted twenty minutes and I couldn't fathom a plan B. Even the large bar area was jam-packed, and a nasty old lady tried picking a fight with us for blocking her way. I have zero patience with the nice elderly so I had to restrain myself from knocking her block off.
I don't trust margaritas from machines, not so much out of hygiene or authenticity issues but because I fear a light hand with the alcohol. A bottle of Dos Equis and a requisite basket of corn chips with salsa suited me fine while waiting. And immediately two stools opened up. It was as if the hand of god, or possibly the ghost of Jose Tejas (assuming he's a real human being and that he's no longer living), reached down and cleared a space for us.
Eating lightly would've been smart in preparation for the next day's inescapable Super Bowl gluttony. But how does one even accomplish such a thing at a restaurant with salads that come in those '80s fried tortilla bowls? No, we went all out and shared the chorizo flambado, which is essentially a shitload of melted cheese dotted with chorizo. I swear the chorizo was actually ground beef or Italian sausage but the grease and fat effect was still achieved. You eat this concoction with warm flour tortillas, creating scoopable quesadillas.
I wasn't touching the Cajun side of the menu. That cuisine is hard to pull off properly even in its own element but in NYC it always tastes like dry, spiced mud. Actually, we joked that dirt might be a secret ingredient while in New Orleans a few years ago; the food all has this earthy flavor that seems to go beyond cumin and cayenne.
I usually order seafood burritos or enchiladas in these types of places, which doesn't seem intuitive. It's just that the chicken is always dry, the beef is ground (I don't like ground beef outside of hamburgers) and pork is rarely on the menu period. I'm also not crazy about fish tacos because battered fried seafood makes me hurl (however, battered fried candy is A-OK). And my crawfish and shrimp stuffed tortillas came sauced to the nines. At least I diligently ate half of everything and saved the rest for a late night dinner. Since this was my first meal of the day, I didn't feel so bad about the caloric value being spread out over twelve hours.
Jose Tejas * 700 Rt. 1 N., Iselin, NJ