The Land of Lean Beef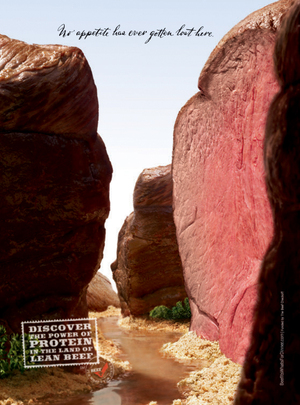 The term beefcake (as opposed to cheesecake, I suppose) always seemed funny, unsexy and early '80s like Chippendale's dancers and referring to asses as buns.
Beefscapes, on the other hand, are the most awesome food art since that guy started painting on tortillas (and they certainly beat Sandra Lee's tablescapes). Canyons and valleys of meat? Maybe the Cattlemen's Beef Promotion and Research Board's new ad campaign is working on me because I'm not a huge beef eater, yet I still find these carnivorous dioramas creepily mesmerizing.
Just get a load of that eye-popping Crumb-Crusted Top Sirloin and Roasted Garlic Potatoes with Bourbon Sauce.