P*ONG

No more P*ONG (1/20/09)
My friend Sherri and I early birded it at P*ONG on a weeknight. Perhaps that's why our waiter called me madam? Ma'am is one thing, and I hate it, but I'm not sure if madam is more offensive or plain goofy (I'd say gay but I don't think that's allowed anymore, especially from a grown woman in 2008. Just don't take away my ability to use retarded, ok?).
We ordered the smallest suite, as they have dubbed their tasting menus, seven courses at $63. Wine pairings always entice me, but I wasn't up for that much of a splurge. I'm also not a fan of the mid-teens-priced cocktail, uh, because I like to drink and there's no justifying $50 for a few Tuesday night beverages. A sweet wine seemed in order with this style of food so a bottle of Gewürztraminer it was.
I hate to admit that this meal is now a total blur, which isn't necessarily a reflection of the quality of food. It's more an indicator of dining partner. I tend to eat at pricier restaurants with James, not so much because he occasionally subsidizes me but because he's not high maintenance (I recently did group dim sum and there were non-meat eaters, meat-eaters who didn't eat shrimp, meat-eaters who didn't eat pork, and well, let's just say dining with others can be treacherous). And for no reason whatsoever we eat horrifically slow (which is more acute in casual settings where every table near us turns over in thirty minutes. Last night I was watching a grotesque Travel Channel infomercial masquerading as informative show called Cruising Do's & Don'ts, which unfortunately had nothing to do with anonymous sex and everything to do with eking value from Disney cruises. My point is that they had to explain that the "specialty" restaurants for 18+ patrons require extra time and that a meal might take two-and-a-half hours like this was something unusual and a little outrageous. Then, I flipped over to Fast Times at Ridgemont High and un-ironically reveled in a simpler time) This isn't some intentional savoring technique, it just happens. The main upside is that I tend to recall what I've eaten after the fact.
So, the pacing at P*ONG was jauntier and than usual because the conversation was animated which translated to quick consumption. This wasn't an occasion for overanalyzing ingredients. And it's not like the portions are exactly demanding of one's time. It's the kind of preciousness that could prompt totally cliché "dude, I could eat a hamburger" after seven courses. However, I've never left a tasting menu hungry, so I call bullshit on this sort of hysteria.
Tiny recap with less-than-ideal photos: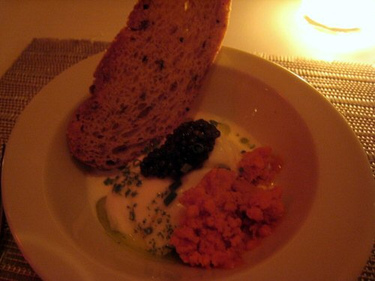 burrata and american paddlefish caviar, frozen roasted red pepper, foccacia chip
The ice-cold pepper fluff kind of freaked me out and made the cheese seem like it had been over-refrigerated. Hot/cold interplays are interesting, they did it a lot at Moto, but I'm not sure if they're the tastiest.
kabocha squash coconut soup, tonka bean, cinnamon, white chocolate, amaretti
I didn't even realize there was white chocolate in this. The overall effect wasn't as sweet as these ingredients would imply.
fresh yellowtail tartare, grapefruit, guava, ichimi pepper, avocado crème, beet oil
house cured arctic char, aniseed pastry, mission figs, maple mustard emulsion (oops, I forgot to take a photo of this)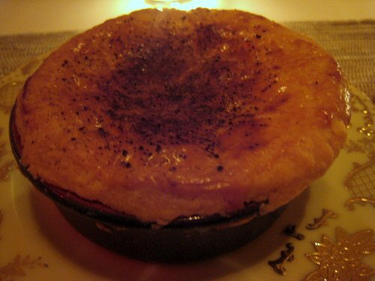 chocolate and pinot noir braised duck, kabocha tapioca, raisin, oyster mushroom
There's no indication from the description that this is a pastry-topped item, but it was a happy surprise because I love pot pie. If what I read somewhere is true, the dishes progress from least sweet to sweetest. This would be the point where I'm good since I have a sweet meat tooth (b'stilla being the ultimate in this realm). Still savory but on the verge of tipping into desserts.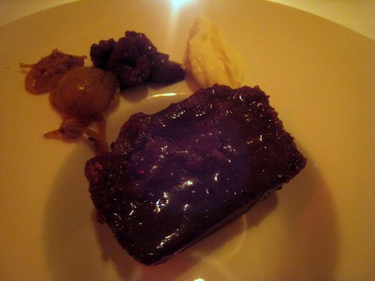 warm date cake, rum toffee, black mission figs, orange sugar, citrus crème fraiche
Ah, sticky toffee pudding—another favorite.
chocolate marquis, hazelnut, aleppo pepper, honey, green apple mousse
As I didn't detect all the sweet ingredients in the earlier courses, I did not taste the pepper in this.
There were also cookies at the end and a course with two sorbet-like blobs somewhere in all of this. I know Pichet Ong is a pastry chef by training hence the sugary leanings but I might have preferred one more savory dish in lieu of a sweet one. Plus, I don't know how to categorize the cuisine using my limited self-created choices; it's not Asian or Thai despite others describing it as so, but I wouldn't feel right saying it's American either.

P*ONG * 150 W. Tenth St., New York, NY