Boqueria

As much as a complain about Manhattan, I do appreciate that it's business as usual on Sunday nights. The last time I attempted going out after 9pm on a three-day weekend Sunday was in Toronto, and it was a complete ghost town. Boqueria (as well as Olive Garden) was almost at capacity the night before Martin Luther King Day.
I was determined to have creative Spanish food after getting hopped on Tapas: a Taste of Spain in America, but deciding where to go was no easy task. Spending more than you'd expect on small dishes was a given; value wasn't my concern as much as agreeable food and atmosphere. I'd already been to Tia Pol (too far) Ostia (too average) and Pamplona (good but I wanted something new). Everything I read about Mercat said it was loud and oversalted, Casa Mono seemed tiny and irritating, ditto for Quinto Pino but probably not so irritating. I'd been to the old Suba a few times and wasn't inspired to try the newest incarnation. Boqueria was all that was left.
I hate to admit that my photos are even more off than usual. I was playing around with the white balance trying to counteract the dreaded candlelight and not only made everything washed out and fuzzy but somehow changed the height/width ratio. I don't even know if I should be allowed to have a camera.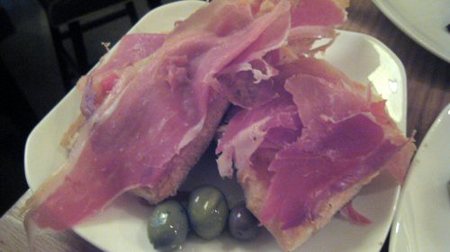 This was regular jamon Serrano, not the fabled Iberico ham. Nonetheless, it was still handsome and meaty. I hadn't expected the jamon to come atop pa amb tomaquet, pan con tomate, Catalan, Spanish…however you like. I'm always surprised how tomato guts on toast can be so appealing.
"Why are there so many eggs on the menu?" asked the girl half of the couple next to us. I honestly hadn't noticed the overabundance but yes, there is a soft-boiled one in this dish. She ordered it too. I love anything with chickpeas and morcilla. Garbanzos al Pinotxo are in the style of Barcelona's Bar Pinotxo. I was very bummed that all the food biggies, including this stand in the Boqueria market, were closed the week I was there last summer.
Any iteration of dates, bacon and cheese (and sometimes almond) are a must. In this instance the cheese was valdeon, a blue. I've made these with manchego and think they would be perfect for a Super Bowl snack even though they seem kind of froufrou. I couldn't even snap this shot before one date went missing from the skewer.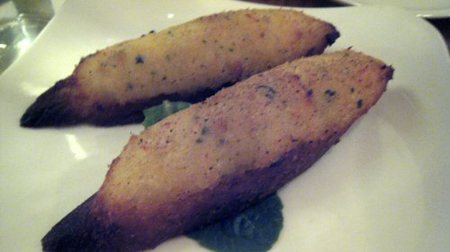 Brandade is kind of like shrimp toast. Maybe the whipped salt cod and potatoes on bread were grilled not fried; they still had that oily unctuousness that goes down well but might cause trouble later.
As Americans we would've eaten cheese with everything else, but we obeyed its place on the desert menu. Idizabal came cubed and tossed with olives and the rosemary manchego was surrounded a few tiny squares of membrillo and filberts (wow, I tried to not say hazelnut but filbert just sounds backwoods even though that's what I grew up with and oddly what I saw used in Toronto. Did you know that Oregon is the nation's largest hazelnut producer?). Our two choices were enjoyed with a rose cava that James thought was like a wine cooler.
Boqueria * 53 W. 19th St., New York, NY