Great Burrito

I don't really eat burritos in New York. It's something I've weaned myself from, not because I'm a snob but because I just can't find any made the way I'm accustomed to (and no, I don't like Mission-style).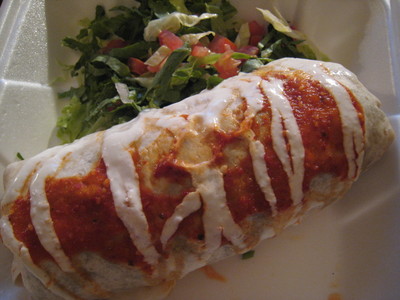 Great Burrito isn't really about burritos (though you can see one above) and it's definitely not about the pizza on display. Their main appeal is offering "real" tacos and tortas with fillings like tripe and tongue in a neighborhood that's hardly a bastion of Mexican authenticity. Or any authenticity—as much as I love them, this strip of Chelsea is rife with the likes of Outback Steakhouse, Dallas BBQ and Olive Garden.
Purists might scoff at this hodgepodge 24-hour take out counter, but where else are you going to go in this part of Manhattan when a 4am urge for al pastor strikes?
Great Burrito * 100 W. 23rd St., New York, NY