AJ Maxwell's

1/2 I'd never heard of AJ Maxwell's, but then there are countless steakhouses with men's names so it's not that surprising. Last year at this time I was working a block away from AJ Maxwell's and it still didn't ring a bell, though it's not the sort of place I would've been dining on a part-time news library salary anyway. Wendy's and Au Bon Pain were about as good as it got.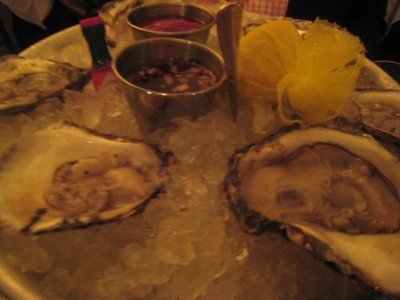 Oysters on the half shell were really too large for our two-seater. They had to take our bread basket away (with the promise of its return) to make room for the presentation. And of course, they forgot to bring the bread back. Carbs are important to me.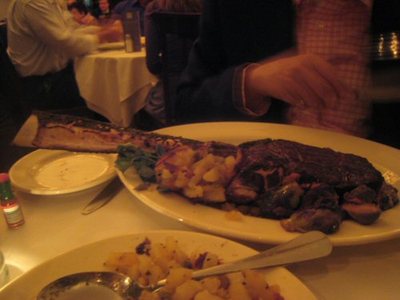 There's something highly impressive about the dinosaur-like bone poking from the rib eye.

I tried lamb chops just to be different, though I would've preferred beef. Despite the pretty greenness, jellied mint sauce rarely does much for meat.

Brussels sprouts with bacon were extremely good. Because we're scrounges we wanted to take leftovers home. Unfortunately, they tossed everything except the meat. I suppose that implies that the typical clientele would never take home uneaten hash browns and brussels sprouts. Though just a few weeks earlier I ate at Ben & Jack's on my own dime and no one had a problem with doling out doggie bags.
Read my straight-shooting Nymag.com review.
AJ Maxwell's * 57 W. 48th St., New York, NY