Jade Island

I'm still not sure how I ended up at a Staten Island tiki bar on Saturday night. Woodside Filipino goodies were on the afternoon agenda. Early evening was devoted to braving gruesome Jersey Gardens crowds in an attempt to track down a parka that doesn't make me look like I'm wearing a sleeping bag. And then, naturally, the pinnacle of an exciting Saturday evening would be semi-suburban grocery shopping. There's nothing like a deserted Richmond Ave. Waldbaum's for 10pm entertainment, Times-invented hipster influx be damned.
It wasn't until after picking up total un-necessities like frozen waffles, a caramel apple kit and fish sticks, that Jade Island crossed my consciousness. I'd been wanting to try this strip mall Polynesian near the Costco for a while, and it's not like I'm frequently in the borough.
I'm no stranger to American-Chinese food; my first ever job was bussing tables for $3.35 an hour at Hunan Garden in Gresham, Oregon. We did serve a pu pu platter but compared to Jade Island, Hunan Garden was practically sophisticated (though at the time, I thought moo shoo pork was supremely exotic). Jade Island is beyond retro; egg foo young, chop suey and chow mein commingle with kitsch like Hawaii "4" O and yam yam steak.
Ordering the pu pu platter was a given, but I had a heck of a time trying to come up with something non-mushy and bland to supplement the finger food. I eventually gave in and tried the chow mein, which was presented in one of those metal domed, pedestal serving platters. Fancy.
Two surprises: no hamburger and no crab rangoon. Rangoons are my favorite lowbrow fake Chinese snack ever. I survived on rumaki (with chicken breast, not traditional chicken liver), shrimp toast, bbq short ribs, fried shrimp and beef skewers, dipped in sweet and sour sauce and hot mustard.
The only other occupied table, whose inhabitants I couldn't see because of the faux bamboo and thatching, were hell bent on making sure that their food wasn't spicy, (like that could even happen). The funniest part was their waiter—all of them wear Hawaiian shirts and are hammy to the extreme— brought their food and jokingly said, "spicy just like you asked for." Sorry, my sense of humor is broad. We started wondering if their thick accents were an act and if they might turn all gruff and guido-y as soon as patrons were out of ear shot.
After one round of sweet, fruity drinks with names like the headhunter, we went even further astray. I couldn't ignore the list of $4.75 oldies. Forget all that artisanal tonic water and basil-infused vodka nonsense—bring on the grenadine and crème de menthe. By the looks of the lounge crew, it was fairly clear that beer was the drink of choice, but we risked ridicule and with straight faces asked for a grasshopper and pink squirrel. My pink cocktail was a no go, they didn't have the ingredients (crème de noyaux, I'm guessing) so my fallback whiskey sour sufficed. The grasshopper was bizarrely sky blue, though it did taste harshly of mint. I was baffled since blue usually equals curacao and there wasn't a hint of orange flavor.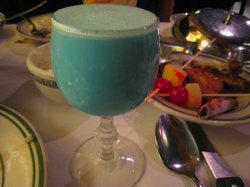 If anything, there was a touch of almond. I was too worried to test the bartender's mettle after that; scotch and soda made up the final round.
At least my fortune was accurate: "You are going to have some new clothes." I did end up finding a winter coat that only minimally resembles a sleeping bag.
These, plus a few extra photos that wouldn't fit can be viewed on Flickr.
Jade Island * 2845 Richmond Ave., Staten Island, NY