Bocca Lupo

Strangely, I don't feel like I have much of anything to say about Bocca Lupo because it's solid, reasonable restaurant that needs no comment from me. (If I were to say anything it would only be relevant to me. And that is that whenever I have the urge to go out to eat, I should wait an extra 30 minutes. You know, kind of like that taking one accessory off before leaving the house trick. Unless visiting a restaurant that's outer outer borough, it's guaranteed that I will end up waiting half an hour to be seated, and as soon as I sit down half the room clears out. Bocca Lupo 10pm on a Friday=crowded, Bocca Lupo 10:30pm on a Friday=lots of open tables.)
Bocca Lupo's on Henry St., I live on Henry St. They serve non-marinara drenched Italian food and stay open until 2am on weekends, both good things. You can order little snacks or more substantial dishes–it's crazy like that. They've been open for almost exactly one year and I have no idea why it took me this long to pay a visit.
Unfortunately, thanks to three glasses of random Sangiovese, and their lack of an online menu, I can't even cobble together basic details of what I ordered.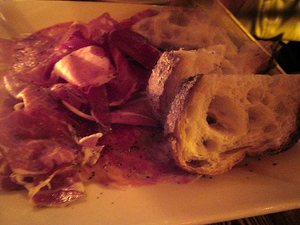 Salumi
Why do I only remember the mortadella?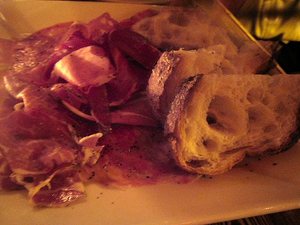 Cheese
Once again, I only remember one specific: the gorgonzola. The unknown soft cheese was my favorite and the candied pecans were a nice touch.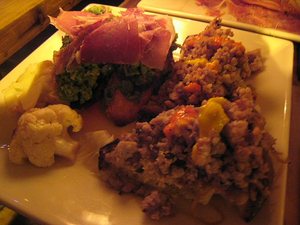 Bruschetta
Sweet peas don't seem very October but whatever. The green puree was topped with prosciutto. The brown mass on the other bread slices was sausage draped with mild chiles. 
Bocca Lupo * 391 Henry St., Brooklyn, NY