Wakiya

Of course I know better than to get sucked into hype, but part of me (a tiny sliver buried deep inside) was curious what the Wakiya fuss was about. I hate scenes so I hemmed and hawed over bowing out of my reservation (I didn't realize that obtaining one was such a big deal. I called, I got one. And 8:45 seemed like a perfectly sane dining time to me). Do I really want to pay good money to get treated like an untouchable?
But aging naïf that I am, I was genuinely interested in the cuisine. I realize food is hardly the point of a place like this (I'm currently planning a fall trip to Shanghai and don't anticipate encountering much Wakiya-style fare) but what little I've read so far has focused more on service and style issues. I didn't encounter much attitude and I actually expected the prices to be crazier (though yes, the portions are petite). We spent about $120 with four dishes and three drinks. No bargain, but hardly outrageous either.
I was a little bummed to see nary a C-lister. Just common folks to my uneducated gaze. Gawker saw Dennis Quaid a few nights ago (I saw him last night in Day After Tomorrow on cable. I didn't want to—I was waiting for Damages to start). I was hoping for at least Randy Quaid or a lesser Arquette or Baldwin.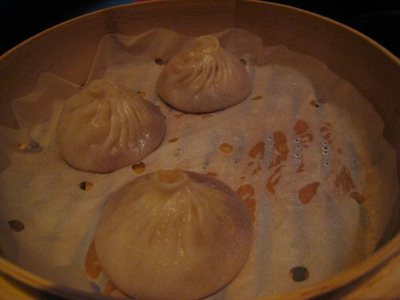 Soup dumplings. No complaints and the vinegar with ginger shreds was a fitting acidic touch. They instruct you to eat them from a small bowl but you really kind of need a big spoon with these messy blobs of dough.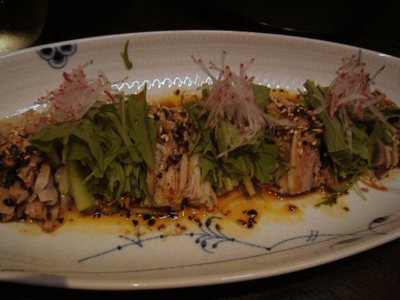 Bang bang chicken. This is a cold dish of shredded chicken dressed with a sweet-hot sesame, soy and vinegar mixture. I could imagine some people thinking this was spicy, though it easily could've been amped up threefold.

Tso tsao pork. That's sweet and sour pork to you. Supposedly the black vinegar makes it more refined. I think it was the tiny serving size that shouted upscale.

Soft shell crab with golden sand. To remain poetic yet maintain accuracy, I would've called it scarlet sand, as it the grit was orange-red, and frankly, tasted like crushed Lays BBQ chips. In other words, the sand was quite tasty. But the crumbs were panko, black beans and a few different dried chiles that I can't recall. I think Aleppo was one variety.

XO omelet fried rice. We really didn't really need this, though James thought it was the best dish. The egg-wrapped rice came at the end and was duly filling. I might've forgone it for a dessert.
Urine-drenched toilet seats were the least surprising thing of the evening. As I've discovered with various NYC jobs, the "classier" the caliber of ladyfolk, the filthier shared bathrooms will be. This was a unisex bathroom, but I only saw groups of girls jamming into the cramped space. I am supposed to be talking about food here, so I'll spare you further gruesome anecdotes.
Wakiya * 2 Lexington Ave., New York, NY