Ben & Jacks Steakhouse

3/4 I'm fairly certain that I haven't eaten at a steakhouse in nearly two years, and that on-the-fly indulgence happened to be at a Morton's in Hong Kong. That's just not right (that is, not visiting a steakhouse in two years, not that I ate at one in Asia).
Steak had been on my mind lately due to little influencers like the last meat-heavy Saveur issue (I might be thinking of avocados instead if the current issue had made it to my apartment) and Diner's Journal chatter. For James, all it took was a late-night, low-budget Ben & Jack's commercial to prompt a reservation a few days later. I had been contemplating less traditional steakhouses like Strip House or Quality Meats but a Manhattan near Peter Luger clone didn't draw any complaints from me.
And essentially, the two menus are replicas. I never thought the service was as gruff as purported in Williamsburg but customer attention is the most noticeable difference with this midtown offshoot started by former waiters. Glasses are never left unfilled, the second your plate nears empty, two more slices of steak are placed upon it using the two metal spoons tong-like approach. In fact, they continue to gregariously serve you throughout the meal, which was kind of unsettling when a giant mess of potatoes plopped all over the tablecloth, not thanks to me.
I never touch the salads or shrimp cocktail. Whoever dreamed up slabs of singed, fatty bacon as a starter is right up there with the inventor of bacon toffee. One $2.95 strip is plenty but we each got two so we'd have a smoky treat the next day.
Our steak order was textbook: porterhouse for two, medium-rare. The sputtering grease flecked serving plate isn't pretty (and my photos are even less so) but it must be so. And this is one of the only places where a warning of, "be careful, the plates are hot" is genuinely warranted. The first slices are presented with flourish and a quick tap and press along the bottom edge of the ceramic, inducing a hiss. I didn't want to fill up on bread but the pool of juices and butter at the bottom are made for an onion roll.
Medium-rare is served on the pink side, but the soft rawness is tempered by the charred edges and the best hyper-meaty parts near the bone. In fact, I really noticed the aged, minerally quality more the next day while gnawing on a room temperature bone.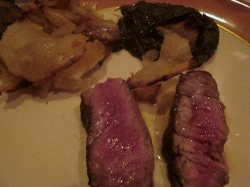 There's not much to say about the creamed spinach and German potatoes since they're perfunctory, yet necessary. 
I swear, in the past we've eaten the entire steak but that seemed like an impossibility on this occasion. After four pieces, I was heading into uncomfortable territory. And even though this was a carnivorous event, I couldn't help but thinking of the possibility of a hot fudge sundae.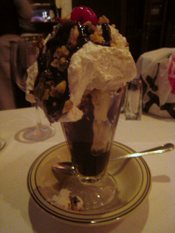 I was wondering if they'd replicate the "holy cow" hot fudge sundae from Peter Luger. And yes, they did, merely swapping bovine genders to create the holy bull. An avalanche of serious schlag dominates the first handful of bites, and by the time you reach the intense concentrated fudgey remains, you're done in. "The drink," as I've always called that painfully sweet, last syrupy bite that's tough to choke down, is almost my favorite part of a sundae. I half-seriously considered ridding my stomach of its contents before dessert arrived, but I don't possess that can do spirit.
Ben & Jacks Steakhouse * 219 E. 44th St., New York, NY