Clemente's Maryland Crabhouse

1/2 Convincing thirteen people to endure a lengthy B/Q ride (maybe the B line is the shit—Grub Street was all over it today) then walk a mile in high heat and humidity would seem like a tough sell, but I was lucky enough to coerce a crew out to Clemente's Crabhouse in Sheepshead Bay on Saturday. I don't normally do destination birthday parties or group dinners because trauma invariably ensues. Maybe the frozen margaritas, sea air and '90s jukebox hits (I thought I'd permanently blocked out the Spin Doctors) messed with my ability to judge, but I did feel better about hitting "the wrong side of my thirties" as one friend ominously remarked in a card.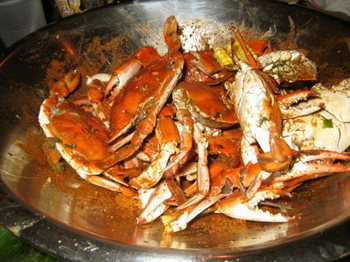 Sure, Clemente's can be a pain in the ass to get to, but the fun is being in completely non-Brooklyn feeling Brooklyn. The urge to buy a houseboat is not an unusual reaction after sitting on the pier for a few hours. Sprouting tan muscles, a moustache and donning a tank top and denim shorts might occur if you stay too long, though.
All-you-can-eat crabs were definitely in order since on my previous visit last year I chickened out and lobster rolled it. Minus the poor vegetarians forced to witness mass crustacean carnage, most diners opted for the same $29.95 deal. Massive metal bowls filled with both Old Bay and garlic and oil drenched crabs took over the paper-covered table. I'll admit that I'm lame with meat extraction and it takes a lot of effort with little pay off. The crabs aren't huge by any means. I doubt I went through more than ten, though I didn't keep count.
After everyone seemed sated and dusk approached, there were still claws and bodies aplenty. It seemed like a waste but I couldn't take anymore. That's when James stepped up and went nuts. I swear, an hour after everyone else threw in the lobster bib, he was still cracking and picking like a machine. I started getting nervous that he might start turning red, sprouting claws and walking sideways. There's no doubt that he got his money's worth.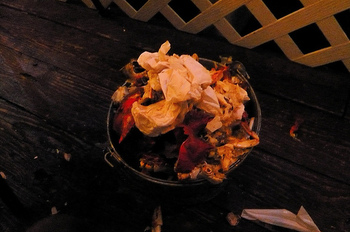 James's overflowing refuse bucket captured by Nao.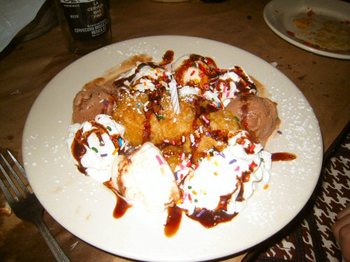 We really couldn't call it an evening until the candle adorned, deep-fried Twinkie doused in ice cream made an appearance. I'm not one to indulge in party pics, in fact I keep humans out of the picture as much as possible, but lest you think my only friends are my laptop and TV, here you are. No, I'm not in any of them because I looked like a sweaty blob and my incessant rambling is more than enough.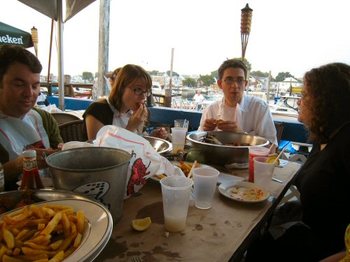 I really like Sheepshead Bay and all of those far flung beachy Brooklyn communities that might not seem like NYC if you were randomly dumped on a street corner (until people opened their mouths. I know fuggedaboudit  is the cliché, but the most common phrase I hear is "get ova heeyah" usually by a parent screaming at a child. It was a constant with my upstairs neighbors in my old apartment).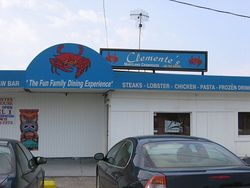 Red Hook is the closest I get to that isolated shanty town culture on a regular basis, but I mean, they have boutiques, a bakery, a freaking Fairway (not that I'm complaining) and public housing, of course. If I didn't have to be in Midtown on a daily basis I'd have no problem outskirting it permanently. Why not totally do away with the whole North/South divide altogether, as I hardly identify with either hipster or intellectual. It's pure happenstance that I ended up in Carroll Gardens, not a calculated move.
 Last summer I researched crab shacks in NYC and came up fairly empty handed and uninspired. For whatever reason, City Island didn't make an impression me, though it did come up as an option this weekend. We ended up at a mediocre place on Long Island with tiny sad crabs. I didn't end up eating blue crabs in a proper fashion until a completely random spur of the moment excursion to Baltimore last Memorial Day weekend. Now I know how it's done.
Clemente's was on my vague list of to-tries but it never made sense until this weekend. Aren't you supposed to go to the shore and sit outside and grill and stuff on Memorial Day weekend? (I spent all of Saturday and Sunday moping around the apartment like a freak so by Monday I desperate for semi-fresh air.) I was hoping it wasn't mobbed because my brain always thinks that anything I'd want to do, so would hundreds of others because it's NYC and no idea is unique and space is a premium.
But no fear, perhaps a third of the outdoor tables were occupied mostly by types who seemed like retired cops or wives of retired city workers, though there was a crew of youngsters that screamed Park Slope. Elton John and Neil Diamond were blasting, slushy alcoholic beverage machines were churning, a pool table was in use and the marina abutting the dining deck housed boatloads of brown bikini-clad girls. Good times!
No really. Despite coming with the intention of eating crabs and the adorable waitresses' tee shirts reading "Got Crabs?" (I'm not sure if the catchphrase was intended to be risqué or not) we didn't do the all you can eat for $29 arrangement. For one, I was too hot to make the effort. Instead, I ordered fried shrimp against my better judgment (I always get sick from battered or breaded and fried seafood) which came with a chipotle remoulade. I also tried an "angry" lobster roll, which is weird because I'm no fan of mayonnaise (especially since the shrimp dip was essentially the same sauce) but I've never had a lobster roll in my entire life despite hearing about them all the time.
 I'm sure this was far from a prime specimen. It came on a hot dog bun, but it wasn't toasted or buttered or top sliced. It was quite open faced and would be hard to manage with your hands-I used a fork, but then, I'm also a pizza forker (never a folder). It was a pretty pure mix of lobster and mayo, heavy on the latter, with a few stray celery bits. The meat was a bit mushy, but I wouldn't say it was a disaster. And it was about $10 cheaper than Manhattan renditions, $14 if I'm correct. I liked that it came with fries rather than chips (I hate it when sandwiches come with chips). And after three pints of Stella it didn't matter much. The atmosphere is kind of what makes Clemente's what it is-the food is just a bonus. (5/06)
Clemente's Maryland Crabhouse * 3939 Emmons Ave., Brooklyn, NY