Wondee Siam

I could've sworn I had been to Wondee Siam before but after hitting up this location, I was sure that this small space on the east side of the street was not what I was thinking of. How did I not know there were two Wondees blocks from each other? Apparently, it's a Hell's Kitchen trend, as Pam Real Thai also does the same two-fer in two blocks trick.
I would say that the food is notch above run of the mill Manhattan Thai and they don't wimp out on the spicing if you request hotness, but I wouldn't say it's a destination restaurant. I would take it over my many local Thai options, though. I ordered fairly straightforward items.
Yum ta lay. When in doubt I often get the seafood salad. This rendition had an orangey rather than clear dressing, which was probably from chile paste since I didn't sense any tomato flavor.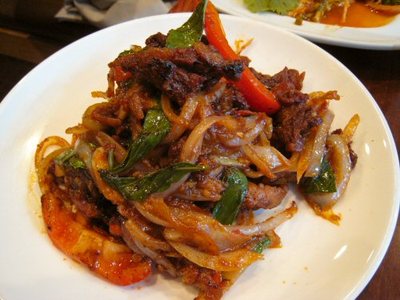 Ped kra prow. I do like duck and am baffled by haters of the water fowl. Dark meat, fat and skin? It's like chicken but so much better. I could eat just chiles, basil and the flavorful residual oil with white rice.
Pork panang curry. I'm not used to pineapple in my curry but it doesn't bother me like completely inappropriate carrots or broccoli. Pork and pineapple are an amazing duo as proven by Hawaiian pizza. I didn't have to think twice when this photo was requested by a stranger to illustrate an article about a woman putting crap in her husband's curry. Tasty. (6/12/2007)
Less crap-filled review for nymag.com
Wondee Siam I * 792 Ninth Ave., New York, NY

What does it take to convince a crowd to steer clear of burritos and margaritas? It's like pulling goddamn teeth. After a rousing comedic interpretation of Jerry Lewis's screenplay about a clown in a concentration camp, "The Clown Who Cried," we were up for a bite to wipe away the pain. The neighborhood we were in was a block from the barrage of dining options on Ninth Ave.: Indonesian, German, Ethiopian, lots of Thai. We were not without choice, but everyone was being a crybaby about choosing, so I made their minds up for them: Wondee Siam. I'd heard it was good for Manhattan, and not that I'm an expert or anything, but jeez, I'd like to believe I know a little more than pad thai and green curry.
All in all, everyone seemed happy with the food. I only ordered a seafood salad, out of thriftiness and calorie consciousness, so I certainly didn't sample enough to make a fair assessment. I had to chuckle when Heather, the most skeptical opponent of eating Thai food that evening, was served what appeared to be the diet plate. A dish with steamed broccoli, carrots, cauliflower, brown rice and a boring chicken breast with some mystery sauce was placed in front of her. I mean, who else would go to a Thai restaurant and order the worst thing on the menu? Maybe it's best not to rock the boat when it comes to group dining. Nachos and pasta all around, next time. (6/13/2003)
Wondee Siam II * 813 Ninth Ave., New York, NY