A Fan Ti

One of our waitresses matter-of-factly asking James "Is she your wife?" baffled me all evening. I've learned that there's a certain ESL bluntness that seems particularly acute with Chinese to English and it doesn't bother me. I'm never sure if lack of subtlety is a translation thing or if it's cultural. It was easier to shake our heads and say yes rather than explain, "Well, actually it's kind of complicated. We're actually just dating but we've been together for nearly eight years which is longer than anyone I know has been married, but we're just boyfriend and girlfriend." We were the only ones speaking English so maybe she was attempting to chitchat to make us feel welcome? Or was it that I didn't seem like his wife, and we make an odd couple? I like James's version, that it was her way of asking if he was available.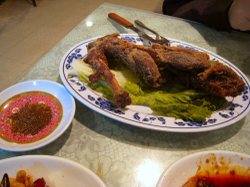 The other waitress didn't speak English at all and I do appreciate that she brought us Chinese menus, though I think it was more a case of her not really thinking it through as opposed to concerted non-pandering. After a few seconds she was mildly scolded by the lady boss and made to bring us English menus without our saying anything.
At least the English menu wasn't lacking any of the oddities that we didn't order anyway. I have no fear of offal but it's no fun eating it alone. The first thing listed is lamb testicles and a bowl of eyeballs bobbing around in liquid is also for the taking. We compromised and stayed on the tame side.
Despite sounding like an American bastardization, I had to order the kung pao, which is called simply lamb in hot pepper sauce. It's peanut crazy and full of startling ma la sensations. Going double lamby, we also had the salt and pepper lamb, which comes spice-crusted (cumin-heavy) on the bone with a little saucer of crushed Sichuan peppercorns and salt for dipping. We barely used half and our mouths were numb by the end of the meal.
This is the type of place where it's not like you're blending in anyway so why bother trying. I was initially afraid of looking barbaric by using my fingers to pick at the bits left on the bone of our salt and pepper lamb. I then noticed others were flat out gnawing on the thing. I should be so shameless.
I would've ordered something with bean curd but soybeans and well as organs don't fare well with this not-my-husband dining companion. To squeeze a vegetable in, I tried the eggplant, which I'm sure was oil laden to make the flesh so silky. It was nothing like you'd get from corner takeout (last night I ordered pork with eggplant from our local not-so-great place Ting Hua [not to be confused with Wing Hua a few blocks up and definitely not to be mixed up with Me and My Eggroll in between the two] and I was given pork egg foo young instead. Bizarre, I haven't had that since I was a kid) there's a sweetness and also a chile spiciness, not just garlic, and somehow it stayed steaming hot for a full twenty minutes.
I love places like this, i.e. Little Pepper and Happy Family, which I haven't posted yet. Maybe it's all the chiles and peppercorns but I always end up with a good feeling, even a sense of well being (seriously) when I eat Northern Chinese food.
My nymag.com review (nitpickers, it contains a to-be-corrected inaccuracy not of my doing)
A Fan Ti * 136-80 41st Ave., Flushing, NY