Xtasis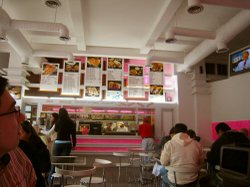 Hot dogs, whether simple or overstuffed, mystery meat or all beef, make me queasy. Even so, I'm fascinated by what Colombians do to fast food staples. On a recent accidental foray onto Northern Boulevard I noticed that Mazorca had closed and that Xtasis had expanded from a rinky-dink storefront into a glowing, acid pink eatery triple the size.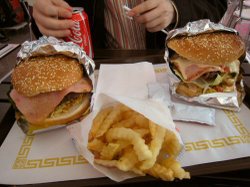 They do a similar thing as La Perrada de Chalo but actually have fewer choices. Where Perrada goes wild with random styles like the Iraqui and Mexicana, Xtasis offers a handful of choices including Hawaiiana (ham, crushed potato chips, pineapple sauce, white cheese), something translated Super Cowboy and the Super Xtasis with hard boiled egg, bacon, thousand island dressing, avocado, chips and I'm not even sure what else. I love all edibles Hawaiian so that was it for me.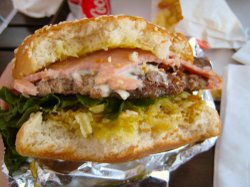 But on a burger, which are equally popular as the massive perros mixtos. I'll admit that it's not the best burger ever. The flavors aren't terribly cohesive, the meat is barely perceptible in the condiment strata and it's next to impossible to fit in your mouth. Normally, I like a toasted bun but in this presentation it induces crumbling. But it is fun, assuming gut bombing is your idea of a good time.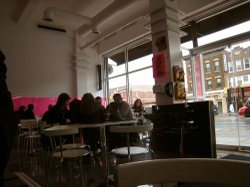 One peculiarity is that beef burgers are not only offered but chicken too. Oh, and that they have two sinks sitting prominently in the dining area (vaguely discernable in photo on the left). It's not like there isn't a bathroom sink, so are they implying that the food is so messy that extra wash stations are warranted?
You can also try snacky things that tend to involve wieners, eggs and yuca. If it hadn't been so chilly and stormy, I might've tried a cholado, shaved ice and fruit concoctions that sometimes get drizzled with condensed milk. They seem nearly Asian but not as wacky as halo-halo.
Xtasis * 82-12 Northern Blvd., Jackson Heights, NY